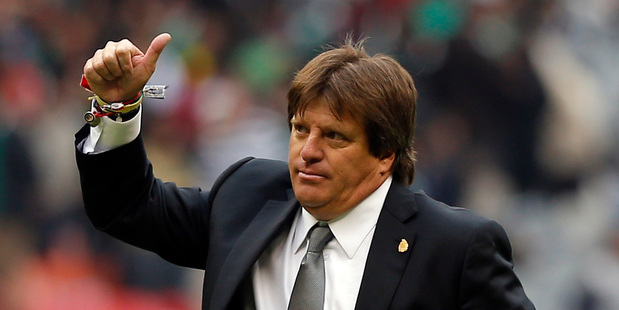 While they can afford to take a defensive approach to tonight's World Cup qualifying match in Wellington, Mexico coach Miguel Herrera insists his team will "attack even more" than they did last week at the Azteca Stadium.
Mexico hold a 5-1 lead from the first leg and many pundits expect the visitors to take a cautious approach tonight, content to defend in numbers and use their pace on the counter-attack.
But Herrera, who is refreshingly upfront in his pre match proclamations, insisted that El Tri will remain on the offensive, pointing out that although Mexico scored five goals last week, they could have scored "two or three more".
"We are going to attack more [tonight]," said Herrera, "We want to win [this match] and we are going to win."
Relive the All Whites' win over Bahrain with the Herald's special look back here.
Herrera also revealed their plan to take the capacity crowd out of the equation in the early stages.
"We want to score early, to wipe out New Zealand's [away] goal," said Herrera. "We have an advantage from the first game but nothing more than that. The game starts again [tonight]."
Asked for any negatives from the comprehensive win in the first leg, Herrera nominated the concession of the Chris James goal as the most disappointing part of Mexico's performance and emphasised that there couldn't be a repeat of that tonight.
Herrera will field the same line-up that took the field last week, while All Whites' coach Ricki Herbert has made five changes.
Despite Herrera's assertions, expect Mexico to take a canny, cautious approach to tonight's game. They will look to absorb the early onslaught from the All Whites, soak up the pressure and then, once the home side commit forward in numbers, attack on the break.
Herrera also emphasised that his team have enjoyed the friendly relaxed environment that Wellington has offered over the last few days, a huge contrast to the kind of reception and environment that the team face when they play around the Concacaf region, especially in Central America. Tonight's match kicks off at 7.00pm.