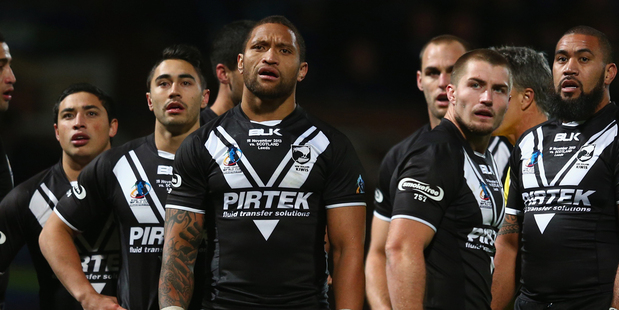 Manu Vatuvei remains an injury concern for the Kiwis ahead of their World Cup semifinal against England on Sunday morning (NZT) but they won't really know how serious his groin injury is until later in the week.
The giant winger came off late in the 40-4 quarter-final win over Scotland on Saturday with what was described as a minor groin strain. It comes on top of the knee injury which might need surgery once the tournament is over and the 27-year-old was hobbling noticeably at the end of the match.
Second-rower Sonny Bill Williams was moving freely at the team's recovery session yesterday after injuring his neck against the Scots and manager Tony Iro said he would be fit to play next weekend.
"Manu's is a new injury but we aren't sure how serious it is yet," Iro said. "We will see how he responds to treatment in the next 48 hours. We have our first run on Tuesday when we will get a better indication but, because it's fresh, we won't be overly aggressive."
The Kiwis won't want to be without the matchwinner, who was excellent against the Scots, but they aren't lacking in options, either.
Jason Nightingale would be the most obvious replacement if they are looking for a straight swap but they might also consider Kevin Locke, Josh Hoffman and even Bryson Goodwin, who has been playing at left centre but who started his NRL and international careers on the wing.
"Manu is obviously a uinque individual in terms of our wingers but we have guys who have other strengths," Iro said.
"I thought Kevin played pretty well in the weekend and Josh played 14 games on the wing [this season] for the Broncos and scored a dozen tries. He's not unfamiliar in that position, either."
The battle for the No 1 jersey between Hoffman and Locke could go a long way to deciding who plays on the wing if Vatuvei doesn't recover in time. Hoffman looms as the No 1 choice in the crucial position but Locke had a good game there against Scotland and coach Stephen Kearney has said he still hasn't settled on his preference.
The Kiwis stayed away from England's patchy 34-6 win over France in Wigan yesterday, preferring to spend the time together in camp before relocating to London overnight (NZT).
England impressed at times, particularly in the first half and on defence, but were also ragged and will need to improve considerably if they are to challenge a New Zealand side who have improved with each week.
England coach Steve McNamara said it was their worst performance of the tournament, labelling it "scratchy" and "substandard".
"If we needed a wake-up call, then that was it," he said. "The harder we tried, the worse we got."
- APNZ