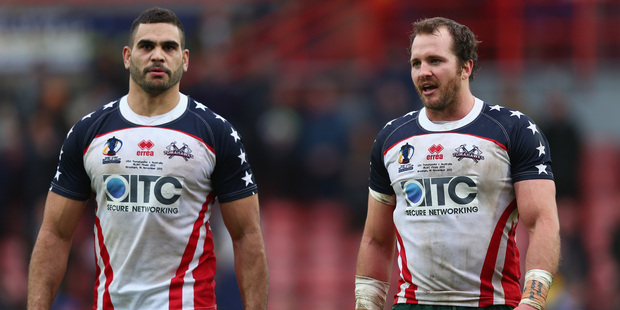 Greg Inglis never wanted to take over from Billy Slater under these circumstances.
But with Inglis aged 26 and Slater 30, you can't help but wonder if the future for Australia will arrive in London on Sunday (NZT) when Inglis runs out in the number one jumper in a World Cup semifinal.
As cruel as it sounds in the aftermath of Slater's potentially tournament ending knee injury suffered in the 62-0 demolition of the United States, the immediate talking point that followed the game was how exciting it was to see Inglis back where he belongs.
At his best Inglis is the most dangerous attacking force in league and fullback is where he plays his best football.
The South Sydney superstar makes no secret he wants to be known as the world's best fullback one day - but following the injury to Slater, Inglis was reluctant to start talking himself up.
But asked if he would relish the opportunity to play fullback this week, Inglis said: "I would love to wear that number one but I am not the coach.
"A lot happens in a week so we will just have to wait and see."
Slater was yesterday awaiting results of an MRI scan and appears next to no hope of playing any further part in the World Cup after going down clutching the same knee that he injured in State of Origin II last year that sidelined him for almost two months.
Slater went up to catch a bomb in the second minute of the second half and when he landed he said he knew he was in trouble.
"I knew straight away what it felt like," Slater said.
"It's a classic [posterior cruciate ligament] injury.
"I had a grade three PCL last year. Although my knee was hitting the ground last year it was in the same position."
Slater went for scans in Manchester after the game and when he returned to the team hotel the Kangaroos' management didn't seem to have great confidence in his immediate future given there is only a maximum of two games left at the World Cup.
You had to feel for Slater as he stood there in the freezing cold in Wrexham in northern Wales talking us through the injury that came at the end of his week from hell.
The nightclub fight, the fallout, now this.
Someone said to him it was a shocking way to end it, to which Slater deadpanned: "Sure is."
But for Inglis, you just wonder if this is the beginning of the next chapter in his already brilliant career.
- additional reporting: Sydney