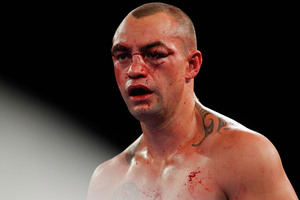 Boxer Daniel MacKinnon is fighting for his life after being rushed to Waikato Hospital for emergency surgery after last night's fight with Robert Berridge on the undercard of David Tua's fight against Alexander Ustinov in Hamilton last night.
MacKinnon's condition is described as serious but stable. MacKinnon's manager Ken Reinsfield said the outlook was "more positive this morning than it was last night but he is not out of the woods".
MacKinnon's wife and close family members spent the night at his hospital bedside.
Reinsfield would not go into the medical details of MacKinnon's condition, however it appears likely he suffered bleeding on the brain.
MacKinnon, 30, was stopped by Berridge in the tenth round of a brutal title fight in which both boxers were knocked down. MacKinnon ended the fight on his feet when it was stopped by the referee and was able to conduct a post-fight interview in the ring.
Around 15 minutes after the fight he complained of head pains as he was preparing to take a shower, Reinsfield said.
He was then rushed to hospital where he underwent an emergency procedure.
Reinsfield said Mackinnon's post surgery prognosis "leans on the positive side".
"He's doing better this morning than he was last night," he said.