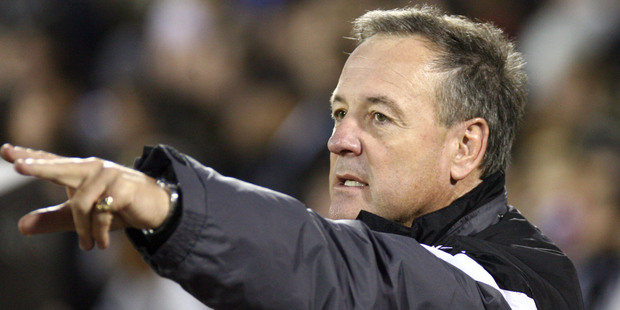 Tim Sheens has warned his players complacency is their biggest danger heading into the sudden death stage of the World Cup - and no player, no matter how big their reputation, is above being dropped on the back of one bad game.
The Kangaroos aren't expected to have too much trouble against a United States team that is made up mostly of part-time footballers and who will take the field as $250-1 outsiders.
Sheens has already admitted boom halfback Daly Cherry-Evans is pushing Cooper Cronk and Johnathan Thurston for a spot in the starting team - and while the coach has gone with experience for the game against the Tomahawks there are no guarantees that is the way it will stay.
"I have said to our guys test matches are a season within itself," Sheens said. "You don't play poorly in a test match and get the next match.
"Many a player, Wally Lewis, Alfie Langer have been dropped in a test match series when it becomes sudden death.
"There have been some great players sit on the sideline in previous series over the last 20 years.
"We can't be any different. This match this week might not be quite as intense as an England and Australia but it is still sudden death."
There will be plenty of focus to see how Jarryd Hayne goes at right centre after Australia dropped Brent Tate from the original 20-man squad that was named earlier in the week.
Sheens makes no secret of the fact he sees Tate as his best defensive option but Hayne definitely gives the team a more dangerous attacking edge.
Hayne was in good form leading up to State of Origin but after having a blinder in the opening game in Sydney he suffered a nasty hamstring injury days later that ruined his season.
Games at the end of the year got him a start at the World Cup and he has obviously done enough to impress to lead that four-man race for the contentious right centre spot.
Tate's omission means he joins Michael Jennings and Josh Morris as casualties for the game against the Tomahawks, while Robbie Farah also wasn't named.
Sheens will have to cut two more players from the 19 named but he has until an hour before kick-off to do that.
He said a few people might be surprised with the line-up he goes with.
"Everyone will have a different opinion but obviously I have got to go with what I think," he said. "I think right at the moment the side that we start with will be close to it but there is not much between them.
"You are talking about a very good squad here. In fact, every one of these guys has played State of Origin this year.
"The whole 23 of them, 24 with Luke Lewis. You are talking about two Australian sides, NSW and Queensland, and there is always only ever a few points between them in the whole three games.
"It is equally difficult for me as it is NSW and Queensland selectors to decide how I filter that into one team and get it to work."
The Kangaroos haven't let in a try in their past two games after beating Fiji 34-2 and Ireland 50-0 and Sheens said Australia have no plans to go easy on the United States.
"You put your foot on them and you don't take it off," Sheens said.
"We are not looking past this game. [The 13 who start] will be close to what I think is our best but that doesn't mean that other guys are out of the picture."
Daily Telegraph, Sydney