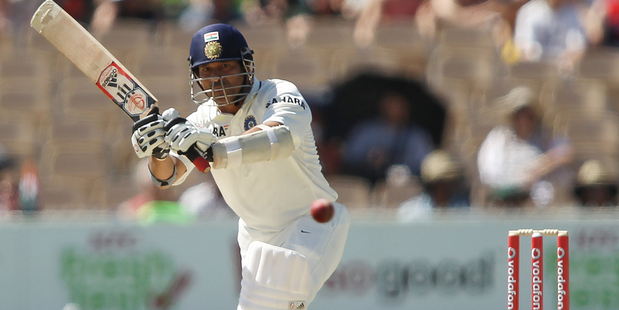 Delirious crowds greeted India's Sachin Tendulkar as he walked out to bat in his last Test match, an emotional farewell game for a national hero whose 24-year career has made him a cricketing legend.
Crowds at the Wankhede stadium in his home town of Mumbai erupted as Tendulkar headed for the crease on the first day of the match, walking through a guard of honour created by his West Indian opponents.
Each run was greeted with raucous applause and cheering, with several textbook cover drives exhibiting the elegant strokeplay that has marked Tendulkar out since his international debut in 1989.
He finished the day unbeaten on 38, having hit six boundaries off 73 balls, setting the scene for further excitement on Friday.
The 40-year-old is ending an international career during which he became the all-time leading Test and one-day batsman and the only man to score 100 international centuries.
Ahead of the match, he said the last 20 years had been "marked by some of the most challenging, exhilarating, poignant and memorable moments of my life''.
"The game has seen so much change over the last two decades - from advances in technology, new formats, yet the basic spirit and passion surrounding the game remains the same,'' he wrote in a front-page Hindustan Times article.
The end of the "Little Master'', who has almost god-like status in his cricket-mad country, has been met with nationwide nostalgia for his sporting feats.
As he strode to the crease, acknowledging the applause with a modest raising of his bat, Indians all over the country huddled around television sets and Twitter exploded with messages wishing him luck.
Tendulkar led the team out onto the field at the stadium in the morning and the toss took place with a specially minted coin bearing his image on one side. Cries of "Sachin! Sachin!'' echoed throughout the day.
Excitement around the game has been building since last month, when he announced his intention to retire.
- AFP