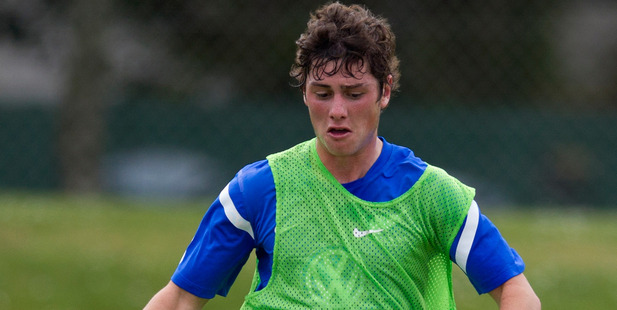 Marco Rojas was mobbed as the team arrived at Mexico City airport tonight, and for a few moments the situation threatened to get out of control as the All Whites star was almost knocked off his feet.
Around 40 Mexican journalists and cameraman were waiting for the New Zealand team as they entered the arrival hall at 11.30pm local time but they only had eyes for one player.
There were chaotic scenes amid a virtual stampede towards the Chilean born Rojas, who overnight has become an media sensation in Mexico, plastered across every major television network and newspaper, as he is the only Spanish speaking member of the team and conducted a series of extensive interviews yesterday in Los Angeles.
In a country of more than 100 million football fanatics, Rojas is hot property.
The New Zealand Football contingent seemed to be caught unawares as the reporters rushed towards the diminutive Rojas. NZF has employed a security guard on this trip but he struggled to shield Rojas, who was virtually lifted off his feet and carried along.
It took the intervention of more than 20 Mexican police, who to the host nation's credit were stationed at the airport for the team's arrival, to clear a safe passage for Rojas to the team bus.
Otherwise there was a chance he could have been knocked off his feet, such was the force of the stampede towards him, and even with police assistance it wasn't an easy passage in the 100m from the arrival hall to the bus. There was no malice or aggression from the local media, just a desperation to get the story from the latest hot property who local newspapers have dubbed ``The Kiwi Messi.''
``Normally we wouldn't need this many police here for an arrival,'' explained one policeman. But this is such a decisive game it was necessary to be here in large numbers. Luckily for Rojas they were.
Aside from the Marco mayhem, the All Whites arrived without incident. They were greeted by members of the New Zealand embassy who guided them through customs and immigration procedures.
The team will have a captains run's at the Azteca Stadium tomorrow afternoon in the final stages of preparation for Thursday's match.