After calling time on his All Blacks career, hooker will play club rugby at Maniototo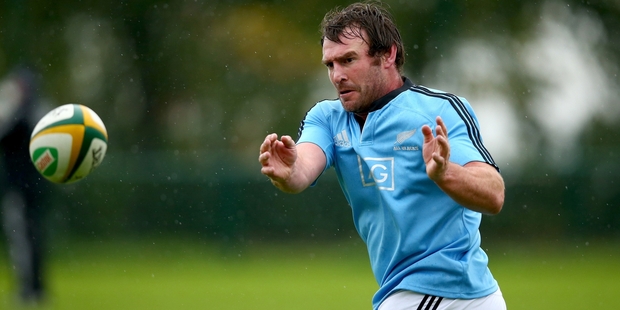 He began his All Blacks career by starting a test against England at Twickenham and Andrew Hore will probably finish it the same way, although he will hope for a different result.
Hore packed down between Joe McDonnell and Kees Meeuws in a 31-28 defeat to the English on November 9, 2002, and as he approaches another test against the old foe at HQ after missing last year's loss due to suspension, it appears his career really has come full circle.
Hore's days in a black jersey are numbered - he is likely to play either on Sunday or next weekend against Ireland in Dublin.
Having decided to step down from top-level rugby next year, Hore's main sporting pursuit will be playing for the Maniototo club in Central Otago. He is grateful to be in a position to be able to call time on his All Blacks career - not that he wants the fanfare that is likely to come with it - but he was in a rare reflective mood as he considered his 11 years and 82 tests in a black jersey.
"I don't think you get used to it at all really," he said of being an All Black.
"I suppose when you're new you're nervous and you think you know a lot about rugby and a lot about yourself and 10 years down the track you realise you're probably [on the scene] too early and you didn't know much about yourself. That's the thing about being in a sporting team for so long. You make good mates and learn a lot about yourself and hopefully go away and make some good decisions in later life."
The 35-year-old hasn't always made good decisions. He missed this test last year after clouting Wales lock Bradley Davies from behind in Cardiff, for which he was banned for five weeks, and there was a conviction for shooting a fur seal while on a fishing trip in 2005, but there is no doubting his importance as an All Black.
In tandem with Keven Mealamu, Hore has been a durable and consistent operator over many years. He will be missed.
"I think you want to play top-level rugby for as long as you can. It's one of those things, it's like a drug. All you want to do is play one game for the All Blacks and then once you've had a go at it you want to play every game.
"That's why New Zealand is so good at footy because pretty much everyone who puts rugby boots on wants to play for the All Blacks and the ones who get there tend to do a pretty good job. I suppose if you're lucky enough to call time on it that's even more special."
Now, though, his Maniototo club team will see a bit more of him and his laconic sense of humour.
"I've got one team that's very interested in me playing for them for the season so hopefully we'll be able to sign a few things off there. After the Ranfurly show we start training so it's quite exciting times.
"I'll be having a lazy January. I won't have to worry about what I ate for Christmas - I won't have to worry about any yo-yo tests at the end of January."
Andrew Keith Hore
Tests: 82 (46 starts)
Tries: 8
Record: 69 wins, 11 losses, 2 draws
- APNZ