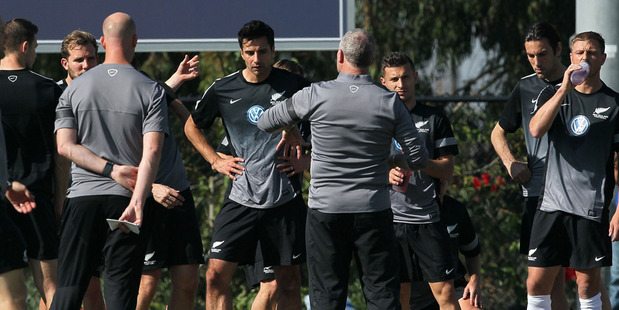 It's a sleepy Sunday morning in Los Angeles but the All Whites' Mexican mission is underway.
The team completed their first training session earlier today at the plush surrounds of the StubHub center in South West Los Angeles.
It's the home ground of LA Galaxy and features six immaculate practice fields comparable to what you might see at a Premier League club or a Serie A team.
MLS team Chivas USA, who were the opponents in a recent friendly, trained at the opposite end of the complex while the New Zealanders chose a secluded field at the back.
Although early it started at 1030am local time the mercury hovered near 25 degrees for most of the 90 minute session.
Like last night upon arrival, there was huge local interest. Five American and Mexican television crews filmed the early part of the session, as the countdown to Thursday's match begins in earnest.
The All Whites staff have also been besieged with requests for interviews, with Marco Rojas the number one target as he is fluent in Spanish, ideal for the Mexican audience.
Though the European based members of the squad only arrived late last night local time, all of the players completed the full session. The squad divided into two groups to work on attacking and defensive strategies, before a full field game to finish the hit out.
As the team filed back onto the bus Jeremy Brockie and Jeremy Christie both had ice packs strapped to their legs but they are only thought to be minor knocks.
Ricki Herbert's team will train again this afternoon (LA time) before a final session tomorrow morning. They depart for Mexico (4.5 hour flight) tomorrow afternoon and will land in Mexico City just before midnight (Mexico time).