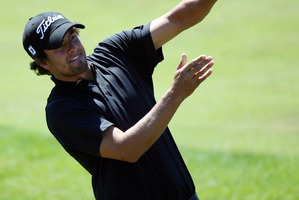 Adam Scott took advantage of easier morning conditions yesterday to shoot a 4-under 67 at Royal Pines and take a two-stroke lead after two rounds of the Australian PGA championship.
Scott was at 10-under 132, while fellow Australian David McKenzie was in second after a 69.
Kiwis Gareth Paddison and Josh Geary were not out of contention, going to seven under and six under respectively.
American Rickie Fowler, who began the day with a two-stroke lead, holed out with his approach on the first hole for an eagle, but things got progressively more difficult for him in swirling afternoon winds.
He finished with a 72, tied for third with two others and three strokes behind Scott.
It is Scott's first tournament back in Australia since his win at Augusta.
He'll play the next three weeks in home tournaments: the Australian Masters and the World Cup of Golf, both at Royal Melbourne, and the Australian Open at Royal Sydney.
"I put a real focus on getting ready the best I could for this event and wanting to play well," Scott said. "I am in pretty good shape at the moment."
Scott, starting on the back nine, eagled the par-5 12th to move into a share of the lead with McKenzie.
A birdie at the par-4 fourth put him into the lead for good during the round.
Scott was honoured yesterday with "Green Day" as spectators and many players wore something green to commemorate Scott's playoff victory at the US Masters in April; the first Australian to win a green jacket.
"The PGA wanted to make today a green day and everyone embraced it, even the players. Which is really special for me that my peers would do that," Scott said
- AP