Gai Waterhouse-trained Fiorente wins big race as her rider wins over crowd despite earlier ban.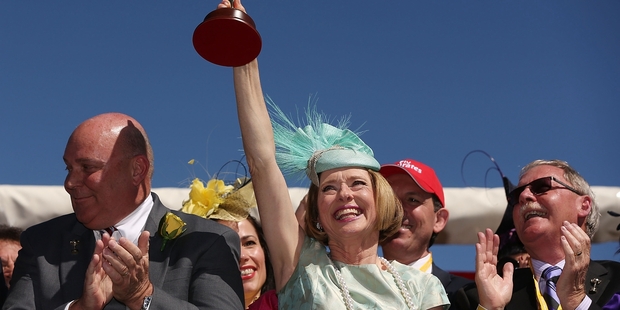 When you're an Australian sporting legend you walk on water.
Damien Oliver proved it winning yesterday's A$6.2 million ($7.1 million) Emirates Melbourne Cup on the Gai Waterhouse-trained Fiorente.
Disqualified for a serious betting breach, Oliver could have joined a list of despised idols - but not when you've won two Melbourne Cups (Doriemus, Media Puzzle).
In that magnificent way Australians revere their best, Oliver received the biggest cheer when the 24 jockeys were introduced to the crowd pre-race and again when Fiorente came back after a no-argument victory.
The crowd loved Oliver and the popular Melbourne horseman returned it.
"You cannot believe the excitement when you see all those people cheering out of the corner of your eye when you approach the winning post," said Oliver. "The level of adrenalin is remarkable."
Part of Oliver's enormous public appeal is his humility.
He became only the eighth jockey to ride three Melbourne Cup winners, but 15 minutes later it could have been a Mornington maiden.
Typically he thanked all those around him.
Oliver picked up the ride on Fiorente after the Turnbull Stakes in which he was ridden by Nash Rawiller.
Oliver was suspended when the horse had his final Cup lead-up in the Cox Plate, when Blake Shinn piloted him into third.
"I want to thank both Nash and Blake for their advice on how the horse ran in both of those races.
"I couldn't have won without them," he said.
On coming back from his disqualification: "It's lovely to be back doing what I love - I really missed it.
"I was determined to prove myself again and I worked hard from the moment I was allowed back on a racetrack. Nothing is a given in this game and you get back what you put in."
Each Cup has been different. Oliver was a skinny, callow youth when he rode Doriemus and on Media Puzzle he rode the horse only to honour his brother who died in a racetrack accident earlier in the week.
For a short time yesterday he felt things were not going his way. "There was a lot of pace on early and I got back further than I'd intended and further than I was happy with.
"But I knew I was right on top of them on the home turn."
Remarkable English veteran Red Cadeaux gritted his way to the front after a wide run and momentarily looked the winner, but Oliver had him in his sights.
"I knew I had it won when I drew alongside Red Cadeaux, but let me tell you when you're in front in a Melbourne Cup that last 200m takes forever."
The race looked to be steeped in controversy when pre-race stewards called Waterhouse to the inquiry room and opened an inquiry around the stable's second runner Tres Blue having a cream applied to a hoof on course.