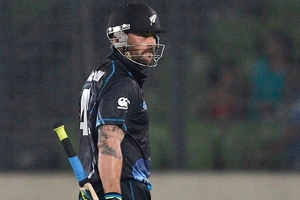 New Zealand captain Brendon McCullum is returning home from Bangladesh earlier than expected after a scan revealed a back injury.
McCullum will miss today's third and final ODI and the sole T20 match after an MRI scan showed he needed to begin rehabilitation to be ready for the arrival of the West Indies at the end of the month.
"Brendon's back needs careful management," New Zealand physiotherapist Paul Close said.
"It's flared up again and is giving him significant pain. The best course of action is getting him home for rehabilitation as soon as possible."
McCullum, along with senior batsman Ross Taylor, was already coming home after Bangladesh and skipping the limited-overs trip to Sri Lanka which follows straight on later this week.
Experienced seamer Kyle Mills, named on Friday to lead the team in Sri Lanka, is now also captain for the last two games in Bangladesh.
The first West Indies test is in Dunedin, starting on December 3. Already New Zealand seem certain to be without Kane Williamson, who fractured a thumb during the first ODI, for the start of the West Indies visit.
New Zealand have already lost the ODI series in Bangladesh, having been beaten in the first two games.
McCullum is no stranger to back problems in recent years and has given up wicketkeeping in test matches. He may now have to curtail his glovework duties in short form cricket too, depending on how his back recovers.