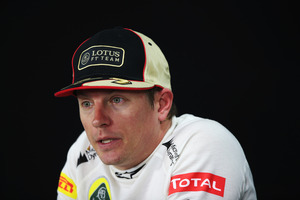 Finnish Formula One driver Kimi Raikkonen, said to be owed $24 million by Lotus, has threatened to walk out on his team if they cannot sort out their financial problems.
Raikkonen, who joins Ferrari next year, went close to not turning up for this weekend's Abu Dhabi Grand Prix, but instead arrived late and took fifth place in the evening's practice session.
The Finn has been at loggerheads with Lotus for several months, the tension exposed when he exchanged profanities during the Indian Grand Prix. Raikkonen is believed to be owed more than €15 million ($24 million) by the team.
"I came here only because hopefully we found an understanding on the certain issues we have been having," said Raikkonen when he met reporters after practice.
When asked if he would contemplate not taking part in the final races in the United States and Brazil, he said: "For sure. I enjoy racing, I enjoy driving - but a big part of it is business.
Sometimes when that is not dealt with like it should, we end up in an unfortunate situation. You have to put the line somewhere and if it goes over that ... it is not really my fault any more."
Meanwhile, champion Sebastian Vettel shook off any last vestiges of a hangover when he clocked the fastest practice time ahead of Red Bull team-mate Mark Webber.
The newly-crowned quadruple world champion, who is seeking to secure his seventh successive victory, was third quickest in morning practice, but responded in style in the late afternoon. His fastest lap time of 1m 41.335s lifted him one-tenth of a second clear of Webber in a session run in cooling conditions and under dazzling floodlights at the ultra-modern Yas Marina Circuit.
Lewis Hamilton, who has always enjoyed and impressed at the Yas Marina, was third fastest for Mercedes ahead of Raikkonen in the leading Lotus, Nico Rosberg in the second Mercedes and Sergio Perez of McLaren.
Vettel, who admitted he felt sick after a night of celebrations in the hotel bar following his triumph in last Sunday's Indian Grand Prix, once again looked to be in utter command. Afterwards, he said he felt Lotus appeared the biggest threat to his winning streak.
"It will be the usual suspects, to be honest," he said, when asked who might emerge as his main rivals. "Lotus is exceptionally quick and may be able to pull off strong pace later on in the stint. Mercedes are strong on one lap for tomorrow [qualifying]."
He admitted he had little idea about Ferrari's potential. Fernando Alonso was 12th in the morning and then only eighth in the afternoon for the Italian giants.
- AFP