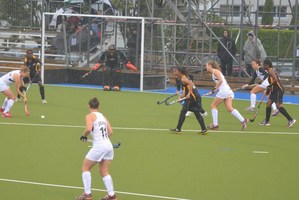 Tonight's men's Blacks Sticks' Oceania Cup game against Australia in Stratford has been called off due to inclement weather.
With the rain belting down and the wind blowing, the conditions were deemed too dangerous to play and the game will be contested tomorrow morning at 11am.
Tomorrow was slated as a rest day but that will no longer be the case for the men.
Earlier today, the women's Black Sticks beat Papua New Guinea 25-0, the Australian women beat Samoa 23-0 and on the men's side of the draw PNG beat Samoa 4-1.
The final round of pool play will take place at the TET MultiSports Centre on Saturday with the finals to be played on Sunday.
- APNZ