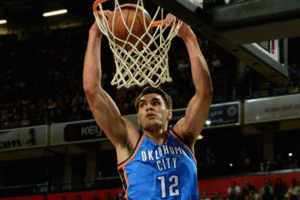 Steven Adams has experienced his first taste of the NBA, making a limited contribution off the bench in Oklahoma City's opening night win over Utah today.
Adams enjoyed three shifts on the floor in the Thunder's 101-98 victory against the Jazz in Salt Lake City, collecting two points, three rebounds and an assist in 18 minutes.
After being chosen with the 12th pick in June's draft and excelling in the preseason, Adams defied initial expectations he would begin his professional career in the NBA development league.
The Rotorua product appears to have beaten out Hasheem Thabeet for the role of back-up centre behind Kendrick Perkins, though Thabeet was kept from today's game due to suspension.
That allowed Adams to officially begin life in the world's best basketball league with 3:21 remaining in the first quarter, and the 20-year-old's first contribution to the box score came in the form of a foul 10 seconds later.
After closing the quarter by snatching a defensive rebound, Adams scored his maiden points in the NBA when he finished at the rim following a miss from Nick Collison.
The centre was soon subbed out but he added to that 10-minute shift with another three-minute spell late in the third. Adams started the fourth on the floor but, as Utah gradually chipped away at Oklahoma City's advantage, Thunder coach Scott Brooks reinserted Perkins with six minutes left in the game.
The Thunder managed to hold off the home side, behind 42 points from All Star Kevin Durant, to make Adams' debut a winning one.
- APNZ