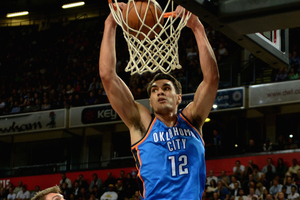 Steven Adams has received a small dose of praise ahead of his first NBA regular season game.
The young Kiwi centre will come off the Oklahoma City Thunder bench in their season opener against the Utah Jazz this afternoon.
Despite labelling him an Australian on TNT's season preview show, 11-time All-Star Charles Barkley says Adams is going to have a terrific rookie season.
Meanwhile, Adams says he's been doing a lot of homework on his Utah opposites in the lead-up to his first game
"Definitely got to try and study the opponent, get any sort of advantage I can when we go over as a team.''
Tip-off is at 2pm.