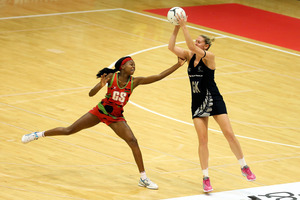 It would have been an unlikely scenario just a few weeks ago, but the Silver Ferns head into tonight's third and final test against Malawi in Hamilton under real pressure to perform.
When these three tests were first scheduled in the window after the Constellation Cup, they were meant to be a chance to tune up different combinations and give coach Wai Taumaunu more time with the national squad to apply some polish and panache in a low-pressure environment.
But the series against Australia spiralled downwards rapidly after they won the opening test and the first two games against the African side were patchy, particularly last Sunday's performance in Napier.
Taumaunu has rotated her squad - using Katrina Grant at wing defence, Joline Henry at centre and Laura Langman at wing attack - which could account for some lack of fluidity and cohesion but the two displays have been well below the high standards set by the Ferns.
Coming into the Constellation Cup series Taumaunu said one of her major aims was to see a "genuine 60 minute performance" from her team - unfortunately six weeks and seven matches later she is still waiting. There were few positives from last Sunday's game, as Malawi outscored the Ferns in the third quarter, at one stage closing the gap to seven. It was ragged and rough, as the Queens caused problems at both ends of the court and forced a staggering 21 turnovers from the Ferns.
Taumaunu is expected to field her top line up tonight and nothing less than a convincing and quality victory will suffice. There will also be a temptation to give Cathrine Latu more game time at goal shoot, as her combination with Langman continues to build.