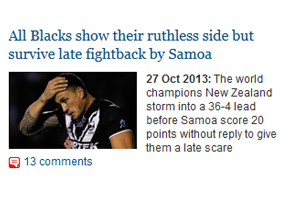 After turning down an offer from the New Zealand Rugby Union last month Sonny Bill Williams made a surprise turn out for the All Blacks this morning, according to the official rugby league World Cup website.
New Zealand opened their account of the tournament with an underwhelming 42-24 win over Samoa in Warrington but despite being defending champions and attracting 15,000 fans they still seem to fly under the radar in official league circles.
Throughout live updates on the tournament's official website the Kiwis were referred to as the All Blacks.
"The All Blacks look focused on the game as their anthem begins," the updates stated. Followed later by "Shaun Johnson puts in a kick to the corner for the All Blacks but it is easily dealt with by Vidot".
New Zealand Rugby League officially adopted Kiwis nickname in 1938 during a tour of Australia.
The Guardian website also got into the act, twice referencing the Kiwis as the All Blacks in their match report including the introduction which read 'The All Blacks and Sonny Bill Williams will be glad to see the back of Samoa and Warrington'.
The closest the All Blacks have ever played to Warrington is at Manchester's Old Trafford in 1997, around 30 kms up the road.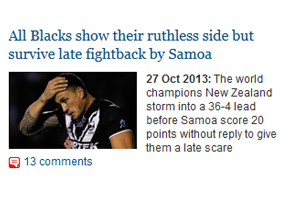 Kiwis coach Stephen Kearney was also referred to as the 'All Blacks coach'.
Actual All Blacks coach Steve Hansen, currently on a flight to Tokyo, was unavailable to comment on his sudden demotion following 10-straight victories.