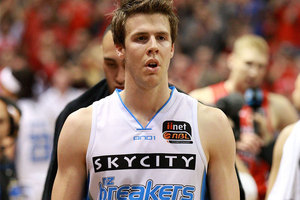 After spending the offseason in America testing himself against NBA talent, Tom Abercrombie will tomorrow get another chance a little closer to home.
The Breakers are aiming to avoid a three-game losing streak when they host old rivals Perth and a player who has set the league alight in the early rounds.
James Ennis, taken in the second round of June's NBA Draft, remains Miami Heat property but his incendiary form for the Wildcats has already marked him as one of the Australian NBL's brightest ever imports.
The swingman will take his talents to the North Shore Events Centre tomorrow where a Breaker with his own NBA ambitions will attempt to douse the flames.
If Abercrombie achieves that task, it will go some way to halting a two-game slide which threatens to become three for the first time since 2010.
The Breakers (1-2) will also put on the line their year-long unbeaten home record, with their last loss in New Zealand coming against, who else, Perth (3-0).
After disappointing defeats to Townsville and Cairns, coach Dean Vickerman said his charges were "pretty grumpy'' at practice this week, a feeling which will only enhance if Ennis has his way.
The 23-year-old currently leads the league in scoring with 24.3 points per game, coming on 50 per cent shooting from the floor and an incredible 47 per cent success rate from beyond the arc.
Vickerman tipped Abercrombie for the unenviable task of limiting Ennis' opportunities, and it was one the Tall Black was approaching with anticipation.
"I'm excited about the challenge,'' Abercrombie said. ``It's a big one - he's an NBA player. It doesn't get any tougher than that in this league.
"He's coming in playing extremely well and I back myself as a pretty decent defender, so it should be a good match-up.''
Ennis was drafted 50th overall by the Atlanta Hawks - 38 places behind Steven Adams - before being traded to defending champions Miami. Boasting a roster stacked with the sport's elite, the Heat opted to extend Ennis' basketball education in Australia, with a view of recalling the prospect next season.
In the meantime, he has been unleashed on the Australian NBL, more than making up for the departure of long-time point guard Kevin Lisch.
"He does a lot of things well - he's very athletic, he can shoot the three and he can get to the rim,'' Abercrombie said of his foe. "For myself defensively, it's just about trying to make him take tough shots.''
Abercrombie had recent experience guarding a similar calibre of player, spending the offseason at the NBA Summer League, but he didn't view tomorrow's game as an opportunity to further prove his capabilities at that level.
"I'm not really thinking about that, it's just another challenge for this team to go out and get another win. My job is to go out there and try to shut him down.
"The team relies on me to do that job, so hopefully I can go out there and do it.''
- APNZ