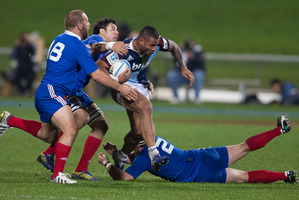 The All Black tour of Europe will be new world meeting old in every sense. The French, English and Irish will not only worry whether the lemons were cut just right for the committee men's gin and tonics, they will endlessly fret and obsess about set-piece, territory and possession.
Rugby Northern Hemisphere-style is still very much a small-scale re-enactment of World War I: full-scale carnage on the front lines with everyone happy to advance inch by painful inch.
But this is not the rugby of the All Blacks. They have vastly different ideas about what really matters these days.
Their rugby is more - to stick with the military analogies - guerrilla warfare. It's not about attrition, digging in for the long haul and hoping to survive for longer.
It is about ruthless smash-and-grab raids. It is about applying pressure across the field with and without the ball.
It is about posing a triple threat - passing, running and kicking.
No question the French and English in particular are masters of the old world style. Their scrums are powerful. Their lineouts slick. They build their game around their big men and squeeze the life out of teams.
It works. It gets results and not for one second will the All Blacks be taking the challenge anything other than deadly seriously. England remain the only side to have beaten the All Blacks in the past two years.
"They will test our structures," said All Black coach Steve Hansen of the awaiting Northern Hemisphere opponents.
"England were able to test us last year and we discovered that our structures were a bit limited.
"We have got more options across the park now but all of the teams we play will have done their homework on us. They will look to slow the game down.
"We realise if we don't keep working hard others will come past us."
Hogging the ball might be a valid route to victory in the Six Nations but its value is rendered almost worthless against the All Blacks, who only need the ball for about 20 seconds to make it count.
France, England and Ireland might all fancy that the adages about possession and territory have stood the test of time. Maybe they will be proven right but the 28 tries and 243 points the All Blacks have scored since August, say, emphatically, that they are on to something.