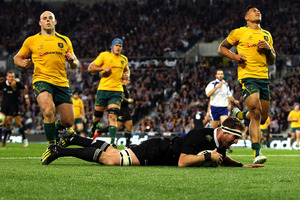 Our rugby writers tackle three big questions from last night's Bledisloe Cup clean sweep.
1. If you were an All Black coach today, would you be thinking more about the 41 points scored or the holes the Wallabies kept punching in your defence?
Wynne Gray: Any rugby coach wants balance throughout his team. Steve Hansen will be delighted with the attack but ponder whether that also leaves them open on defence.
Patrick McKendry: I'd be pretty happy with that win. This was a test the All Blacks could have easily have slipped up in. The mental high of Ellis Park and the travel home would have taken a toll. The Wallabies had nothing to lose and played well.
Gregor Paul: The 41. This is the new breed of rugby - a bit like the Newcastle United theory under Kevin Keegan: they can score three but we will get four. That's the All Blacks - take risks, open the game up and score more than the other lot.
2. The Ben Smith experiment - success or failure?
WG: Smith was put under plenty of heat but so were his teammates when men like Israel Folau and Tevita Kuridrani ran into midfield. Centre is going to be a work in progress.
PMc: This might sound harsh, but a failure for me. His attacking verve was blunted and he made a few mistakes on defence. He can only improve on this.
GP: Too early to be definitive. It was never going to one or the other after just 80 minutes. You can't learn the position quickly and to drift into coaching cliche for a minute...he'll have learned heaps, especially on defence and be all the better for the experience.

3. Player of the match, and why?
WG: Hard to go past Sam Cane who relished the dry track and another chance to deputise for his captain. Breakdowns, support work and defence were strong. Fine performance.
PMc: Sam Cane - massive workrate and impact. His best test so far.
GP: Sam Cane was the man of the match. Had physical presence, played like a classic No 7, did everything McCaw would have done bar save the world and most importantly, he was better than Michael Hooper who is a fair handful himself.