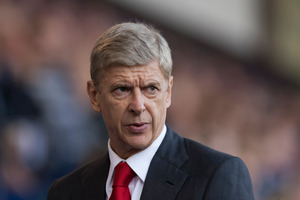 Arsenal manager Arsene Wenger says the club will not abandon their principles despite beginning to make their presence felt in the transfer market.
Buoyed by the club-record 50 million ($80.7 million) purchase of Mesut Ozil, Arsenal won five of their first seven Premier League games and lead the table on goal difference from Liverpool.
Years of shrewd financial management, including the construction of the 60,000-seater Emirates Stadium, have left Arsenal in a strong economic position, but Wenger says they will not get carried away.
"We have huge ambition to win the league this season," he told shareholders at the club's annual meeting.
"We were restricted financially and had to be strict, but we have come out of that.
"However, we have to defend our style of play and values.
"That comes from developing our own players with youth policy and that should be the core of our club.
"The future of Arsenal will rely on the quality of work we do inside, to scout and develop. We are respected all over the world for our values; we are not artificial.
"We will also look to buy proven quality. We did not need to scout to buy Ozil; it was just money. I am pleased we have shown you we are not afraid to spend."
Arsenal owner Stan Kroenke said the club could move forward only if Wenger's players enjoyed sustained success on the pitch.
"None of us up here [on the board], fans, players, or Arsene are happy until we have won trophies. We have said that over again and are committed to that."
New club chairman Chips Keswick paid tribute to his predecessor, Peter Hill-Wood, who retired from the role this year due to health problems.
Arsenal have not won a trophy since 2005, but Wenger believes their long silverware drought could be coming to an end.
"We are top [of the table], in a very strong position, but at the end of November will give a much clearer indication of where everyone lies," he said.
"I am confident that at the end of May, we will all be happy." AAP