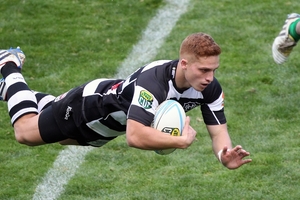 Ihaia West has fond memories of his last trip to Dunedin.
The 21-year-old five-eighths played a leading role in Hawkes Bay's first Ranfurly Shield triumph since 1969 as the Magpies toppled Otago 20-19 in front of a packed Forsyth Barr Stadium in September.
Their round three encounter was one of the best games of this year's ITM Cup and the teams will meet again this Sunday in the Championship semifinals.
Both squads have form on their side after they knocked over Premiership opponents in the final week of the regular season.
Hawkes Bay dealt Wellington their first loss of the year with a 35-24 win in Napier, while Otago tipped Auckland over 37-33 in Dunedin last Sunday to book home advantage for the semifinals.
After a convoluted travel schedule - courtesy of this weekend's Bledisloe Cup test in Dunedin - West said the Magpies were happy to head back to Otago.
"It was a pretty cool experience down there with the shield so we are looking to do the same again this week," West said. "The boys all took a bit of confidence out of that first win against them."
West made his debut for the Magpies last year but the former New Zealand under-20s pivot has come to prominence this season with his scything runs on attack, which have proved challenging for opposition defences to negate.
Playing among experienced heads like halfbacks Alby Mathewson and Chris Eaton plus midfielder Andrew Horrell has made life easier for the Napier Boys' High School old boy.
"Whenever you are in trouble you can go talk to them and they've got awesome ideas that they bring up and they just know the game inside out," West said.
Super Rugby is something that is likely to appear in West's future, just not in 2014.
"At this stage there's nothing," he said. "All the teams are pretty set with 10s ... Hopefully all going well I might be able to pick up something for the year after."
Super Rugby squads have to be confirmed next week, with wider training groups to be announced a week later and a player like West seems suited to a wider training group deal somewhere.
He acknowledges his defence needs work, but at 83kg he is always going to be one of the smallest guys on the paddock.
West took inspiration from another pint-sized first-five in Aaron Cruden, who is listed in the ITM Cup media guide at 82kg.
"He's obviously someone that I look up to being a smaller guy and he takes on the world pretty much. He's awesome on D and he's got a good running game."
The winner of this Sunday's encounter will meet the victor of the semifinal between Tasman and Southland that will be played in Blenheim tomorrow.
Promotion to the Premiership will be on the line in next weekend's Championship decider and Hawkes Bay would dearly love to make their way back to the top flight after being relegated last season.
They will have to do it the hard way given both of their playoff games could be on the road but West has given them plenty of reasons to hope.