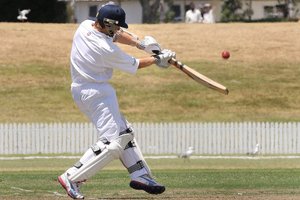 Kane Williamson: test specialist batsman and part-time spinner, or allrounder?
He's one at the moment, but could easily become the other in time.
In his 26 tests, Williamson's brisk offspin has picked up 21 wickets at 36.47.
But boil the numbers down. In his last five tests, he's taken 13 at 24 apiece.
In March at Eden Park, as New Zealand strove for a series-winning victory over England, it was Williamson who utilised final afternoon conditions better than the senior spinner, Bruce Martin.
While Martin laboured unconvincingly and without success, Williamson whistled out key batsman Alastair Cook and nightwatchman Steven Finn to open the door late on the fourth day, then removing Stuart Broad and James Anderson in the dying overs gave New Zealand four overs to remove last man Monty Panesar, which they couldn't.
New Zealand coach Mike Hesson is wary of piling up Williamson's responsibilities.
His primary role is at No3, and his fourth test hundred in Chittagong last week, raising his average to 34, rammed home his importance to the batting operation.
"Twelve months ago he was hardly bowling so he's changed a lot in that," Hesson said.
"We're not going to push his loads through the roof. He's batting No3 for us so it's a matter of balancing that out."
However there are intriguing subplots to come out of Williamson's burgeoning spin work.
Might he become a viable second spinner/fifth bowling option?
If so, could that open the door to rejigging the composition of the test XI in certain conditions? While he's unlikely to mark out his runup much in, say, early-season English conditions, he could be a real asset on the subcontinent.
That said, it's worth remembering he took four wickets at Leeds last May, when it wasn't exactly sweltering and turning square - good ones too, Ian Bell twice, Cook and Nick Compton.
He's already an integral part of the limited-overs bowling setup.
A similar importance in the test operation may not be far away.
"Obviously in certain conditions around the world he's going to bowl more," said Hesson.
"It's a matter of being a little more cautious but he certainly deserves to be considered as an allrounder.
"And that certainly helps our balance significantly."