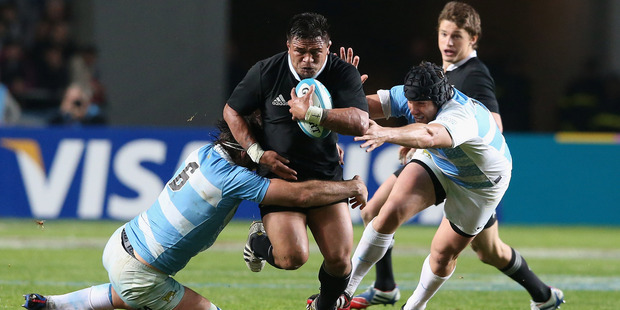 If Keven Mealamu were a racehorse, punters would have little appraisal on his form.
If they could bet on his work in half a match, because he is unlikely to get much more against the Wallabies tomorrow in Dunedin, they'd wonder if Mealamu could do the business and make an impact.
He has been so lightly raced this season there was an impression he was heading for the knacker's yard.
That was never in Mealamu's thoughts. But four starts and a few other shifts from the bench during the Super 15 season, then five substitute appearances in the All Black programme, suggested other things to the public.
Perhaps the impact of 107 tests was starting to bite on Mealamu, who turns 35 next March.
For some time, the fitness men have been concerned about his pistons and their sensitivity to muscle tears. Those calf issues have dogged the All Black hooker for the past couple of seasons as he worked on ways to lighten the impact on his legs.
He ran on grass and swapped his training methods to reduce the load those chunky lower legs gave to his rugby. The All Black medicos think they have it sorted and now is the time to unleash the dynamic hooker.
It's almost a year to the day since Mealamu became the third All Black to hit the 100 club, but what should have been an evening of celebration for him, his family and the All Blacks lost some gloss with the 18-all stalemate in Brisbane.
That ended a tilt at a world record-winning sequence and one which compounded when the All Blacks were well beaten by England in their final end-of-year test.
Mealamu began that test too and a shot at that revenge will come soon enough. But tomorrow in Dunedin he and his buddies get a chance to make amends for their mental slide last year with the Wallabies.
Something similar happened in Hong Kong in a test against the Wallabies on the way to Europe in 2010 - in a match where Mealamu also started in the No 2 jersey.
As far as silverware is concerned that match, like tomorrow, was a dead rubber. In terms of an ascending form graph, though, it is even more important for the All Blacks to continue applying, tomorrow in Dunedin, the heat they applied against the Boks in Johannesburg.
"This is my first start for the season so I am really excited and I love playing down here in Dunedin, so I'm looking forward to taking the opportunity," was Mealamu's soft, thoughtful response.
That is how he is off the field, a gentleman who cares deeply about his extended family, his work and the world around him. When he goes to work he adds layers of athletic physical menace to his persona.
"I feel fresh and ready to go and keen to get out there.
"It has been a different season for me but still [exciting] and I probably still feel the same as Thrushy [Jeremy Thrush] feels as well," he said, nodding at the side's novice starting lock.
"I think the level we are at here is everyone prepares to play and getting the game on Saturday is like the bonus part."
Everyone in the All Black group had taken some lessons from the Brisbane defeat last season. They were travelling well this year but they had to do the work every week without taking any shortcuts in preparation.
They had recovered after being on the road in Argentina and South Africa and were determined to show off some decent rugby at home.
Teams were getting more accustomed to the changes in the scrum laws. It might take until next year before everyone was working within the guidelines but they had made good progress in the past few months.
Mealamu has extended his NZRU contract but is not getting sucked into talking about his sporting future beyond tomorrow.
"But the body is feeling great and I feel ready to go and in good nick."