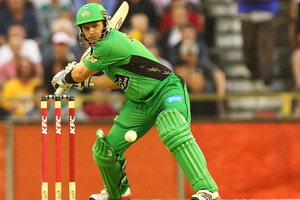 The Auckland Aces will have a wealth of Twenty20 talent available to them for this season's HRV Cup after announcing the signing of Brad Hodge, Luke Wright, David Willey and James Fuller.
Hodge returns after playing the first game of the Aces' HRV Cup campaign last season and is one of the most experienced Twenty20 players in world cricket. The veteran Australian has wracked up 5567 T20 runs and has the added bonus of being a bowling option.
All-rounder Wright is a current England international and was seen here earlier in the year in their tour of New Zealand. Wright is also no stranger to HRV action having been with Wellington for the 2010-11 competition.
Willey was the success story of the 2013 T20 season in England where the all-rounder helped Northamptonshire to win the competition with a 19-ball half century and a hat-trick as part of a four-wicket haul.
Fuller, an Aucklander-turned professional for Gloucestershire, helped the Otago Volts to the HRV Twenty20 title last season.
A fast bowler who can also hit the ball a long way, he will provide the Aces with some real firepower at the bowling crease and is available for the whole HRV Twenty20 campaign.
Hodge will be here for the first three games, while Wright will be available for the home double-header at the end of November. Willey will miss the first three rounds but will be here for the remainder of the competition.
Aces coach Matt Horne was delighted at the signings as his side tried to win back they won two years in a row.
"To secure these guys for the HRV Twenty20 is really huge for us,'' he said. "All of them are proven Twenty20 performers and each one gives us something different. We think they'll provide us with some real strikepower and we're looking forward to them joining us from November.''
- APNZ