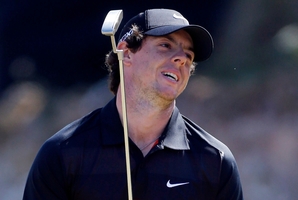 Rory McIlroy begins a month-long Tour of Asia today that is guaranteed to earn him more than 3 million ($5.7 million) in appearance fees. But with his name being read out in a Dublin court overnight (NZT) and with yet more reports of him breaking up with tennis star Caroline Wozniacki, the young Ulsterman is probably simply glad for the opportunity to get away from it all.
The last month was supposed to be a time of relaxation as he prepared for the final push that could yet save his season. Instead, the 24-year-old has been embroiled in a high-profile split with his management company and his two-year relationship with the tennis player has come under ever increasing speculation.
McIlroy boarded the plane to Seoul yesterday with the Irish Independent claiming that he has told Wozniacki it is over and that she is "devastated". Whatever the truth the mobiles of his support staff were sure to be red-hot with media outlets seeking confirmation or denial.
Back in Dublin, the Communications Clinic, the PR firm he appointed last month as he announced he had ended his association with Horizon Sports Management, refused to comment on the story.
If only that was all there was to worry about.
Today the legal wrangle with Horizon starts. One of the first acts for Rory McIlroy Incorporated when it was formed last month - with his father, Gerry, taking a prominent role - was to launch a plenary action against the agency.
Apparently, McIlroy was unhappy with the amount of commission that Conor Ridge's company took. It was estimated at 4.7 million as McIlroy signed a 78 million deal with Nike and other lucrative sponsorship deals in a frenetic six-month period.
What could turn into a long and messy legal affair begins with a preliminary hearing in front of Justice Kelly at the Irish capital's Commercial Court. If the lawyers cannot agree on a settlement, it is likely to be damaging both in costs and image as Horizon counter-sues McIlroy for quitting a five-year contract and the details emerge of his multimillion-pound endorsements.
In an interview before he left for Asia, while he denied that it had been "a terrible year" as he has remained in the top six in the world rankings, the difference to his remarkable end to last season has been stark. In his past 10 events he has recorded only one top 10.
Before he has hit a ball at the Kolon Korea Open, it is understood McIlroy has been assured 940,000. Next week, he will pocket a similar incentive to turn up for the BMW Masters in Shanghai.
As soon as his participation in that European Tour event concludes, McIlroy will head south to China's island resort of Haikou where, on the Monday, he will play Tiger Woods in a repeat of last year's 18-hole showdown. That will be worth another US$1 million-plus ($1.2 million) for McIlroy. After that he will head back to Shanghai for the HSBC WGC Championship. It is a giddying schedule. He has a week's break from competition planned between the WGC and the European Tour's season-ender in Dubai, although it is believed he will remain in Asia to fulfil more sponsors' commitments.
At least he has enjoyed a rest since his last tournament, the BMW Championship in Chicago, where he failed to make the top 30 who played in the FedEx Cup finale in Atlanta. Well, a rest in the sense of not being in competition. McIlroy has also been in the headlines because he was noticeable by his absence from the wedding of his long-time friend and former Horizon stablemate Graeme McDowell.
During the past fortnight, McIlroy has spent time with Wayne Rooney after a Nike photoshoot, played golf with Bill Clinton, been pictured in a restaurant with Clinton and Bono and, on Friday, shown on TV at Ulster's Heineken Cup victory over Northampton.
Wherever McIlroy goes, the spotlight follows, and while his ranking in 2013 has fallen, his celebrity has followed no such downturn.
McIlroy will be desperate to perform well. He has been hard at work with his coach, Michael Bannon, and believes he has located the solution in an old black book. "Whenever I'm hitting the ball well I write down the feelings I have with my swing," he said. "The best I ever swung was 2009. I've been referring to the little black book I wrote it down in at the time. If I can get that part of my game back, everything else will fall into place."
If McIlroy could pick up a win in China, or even consecutive wins, he could yet figure in the Race To Dubai Order of Merit. At the moment, he is 58th, with only the top 60 to qualify for the finale. That indicates his mediocrity in 2013.
"It hasn't been the best season," he said. "All I am looking to do is finish the season on a high."