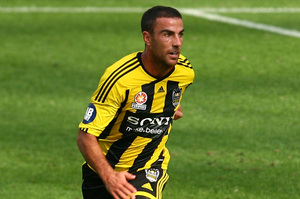 If the Wellington Phoenix are to rise again, much of their success will depend on an underrated Maltese utility player and a former Spanish ambulance driver.
The Phoenix, who face Brisbane Roar in Wellington today, finished bottom of the table last season but much is expected under new coach Ernie Merrick.
While the focus will fall on star signing Carlos Hernandez, as well as Costa Rican compatriot Kenny Cunningham and Paul Ifill, the contribution of the likes of Manny Muscat and Albert Riera in the engine room will be vital.
Along with Vince Lia, Muscat and Riera will provide the muscle and grit in midfield; the platform for flair around them to thrive.
The defensive midfield role is even more important this season. Merrick intends to play Ifill and Hernandez in the same 11 and with neither player known for their defensive workrate, the tackling load will fall on the rest of midfield.
Muscat has alternated between right back and midfield in his five seasons at the Phoenix, though Merrick sees the 28-year-old as a midfielder. Despite a mixed pre-season, there is a sense of optimism around the club, with Merrick looking to make some major changes.
"Ernie has his own philosophies and we are taking them on board," says Muscat. "We have grown out of the old Phoenix ways; we are trying to play and we have got a direction of how we want to play. I don't want to talk about the past Phoenix to be honest. It's a new era and we are going in a different direction; we want to play more attacking football, with a basis on possession."
Often unheralded during his time in Wellington, Muscat is solid defensively with an eye for a pass. He has represented Malta on eight occasions since 2009, against established European footballing nations such as the Czech Republic and Sweden.
Meanwhile, Riera's rise is one of the more unlikely A-League stories in recent years. Riera worked in Spain as an ambulance driver and played for various Spanish lower division semi-professional sides, before deciding to take a year off work to go travelling in Australasia.
"The only reason I came to New Zealand was to travel, see another country and experience another language," says Riera. "I wanted a break from football and I didn't really think about it."
He was persuaded by friends and family to check out options and an online search found Auckland City, with fellow Spaniard Ramon Tribulietx as coach. Tribulietx promised him a trial but nothing beyond that.
He has been a revelation in the ASB Premiership and OFC Champions League, shining as one of the more consistent players, with his tenacity and distribution. Professional football will be another step up, though Riera acquitted himself well in both Fifa Club World Cup matches in the last two years. He stood out in Auckland City's 1-0 win over the Phoenix two weeks ago and then impressed at a subsequent week-long trial in Wellington to secure a one-year contract.
The Phoenix are without their four All Whites today, and will also have that quartet (Glen Moss, Andrew Durante, Leo Bertos and Jeremy Brockie) returning only one or two days before the second round game against Western Sydney Wanderers.
"The first two weeks are going to be tough under the circumstances," says Muscat.
"It will to take time to learn everything Ernie wants us to do and be able to apply it on the field. But it will come."

Muscat's pro career
Phoenix debut: August 17, 2008
Games: 119
Goals: 2
Muscat's first A-League match was against today's opponents the Roar. The match finished 1-1.