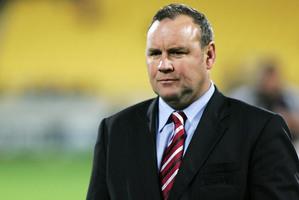 Auckland will learn their ITM Cup semifinal fate this afternoon.
Wayne Pivac's side are in search of home advantage for week one of the playoffs but if Canterbury beat North Harbour with a bonus point in Albany today, the red and blacks will lock up second spot on the ladder. That would leave Auckland in third, regardless of how their showdown against Otago tomorrow pans out.
Given Canterbury's imposing track record and Harbour's abysmal form this season, it's hard to see anything but a comfortable win for the defending champions today.
If Harbour were to cause an upset, or at least deny the Cantabrians a bonus point, Auckland could sneak in to second place with a bonus-point win over Otago in Dunedin.
Whichever way the results fall, Auckland will meet Canterbury in the semifinals next week, it's just a matter of who will have home advantage.
Auckland were soundly beaten 38-16 by Wellington in the capital last Saturday and Pivac said he wanted more accuracy from his side.
"It's important we get a result regardless of the situation," Pivac said. "Our focus is definitely going to be on a good performance. We know that Otago's got a lot to play for so we wouldn't want it any other way going in to the semifinals. We want a good, hard game and that's exactly what Otago's going to give us and we'll be expecting that."
Otago are guaranteed to face Hawkes Bay in the Championship's semifinals next week but they could claim home advantage for the contest with a win over Auckland.
With the conditions not playing a part at the indoor Forsyth Barr Stadium, matches in Dunedin tend to be high-scoring and Pivac said his side wanted to finish on the right side of that scoreline.
"We certainly wouldn't want to go in to a semifinal after two losses. So it's about confidence too. They're human beings, they're rugby players and confidence is a big thing in a sports team. So we want to get back that winning feeling."
- APNZ