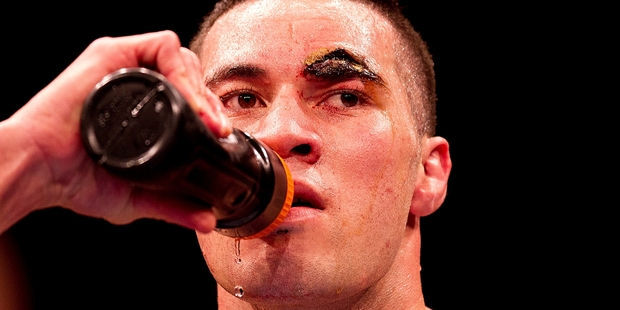 Despite 12 weeks of meticulous planning, Joseph Parker's fight plan fell apart in just 30 seconds on Thursday night and it's unlikely the Kiwi champ will fight again this year.
The 21-year old heavyweight knocked out Afa Tatupu in the second round of the National Boxing Heavyweight title fight at Auckland's Trusts Arena but, by ignoring team tactics and turning the fight into a brawl, incurred a huge cut across his forehead which now requires a trip to Las Vegas to help fix the mess.
Parker has already been ruled out of next month's Fight for Christchurch and, with a heavy summer Duco schedule including a David Tua fight, Fight for Life and the NRL Nines, it could be February next year before he is back in the ring.
Parker felt the ire of trainer Kevin Barry after the fight. Barry had specifically warned against getting too close to Tatupu.
"I was bloody furious, because my only real concern about this whole fight was his [Tatupu's] head," Barry said.
"Our game plan consisted of not having Afa anywhere near him, keeping him on the outside.
"It's the style of fighter that he is that he leads with his head. If I told him once, I told him 20 times, 'I don't want his head near your head."'
But Parker was in his own world, spurred on by claims he couldn't mix it with a real puncher and threw the game plan out the window.
"The reason I got the cut is because I didn't follow the plan," Parker said. "I did this to myself.
"In future fights I can't let emotions get in the way. People had been saying that they weren't sure if I could take a punch or not and emotions took over and we just started brawling. I just thought, 'If you want to brawl, let's brawl."'
Barry will now fly Parker to see a specialist surgeon in Las Vegas who he hopes can help with the healing after 14 stitches were applied last night. "Doctor Dave did an amazing job last night, we were so lucky we had a real fight doctor there," Barry said.
"I have seen too many fighters' repair work ruin their careers where doctors have stitched them up after the fight only for it to be substandard and every fight after that they're opening up again."
But the lingering threat of what this deep gash could do to Parker's career is likely to give Barry and Duco at least a few sleepless nights.
"I don't know what's going to happen the next time he's in a fight and gets hit really hard in the same spot," Barry said.