Late about-face is tough on Tohu, but we had to select the best team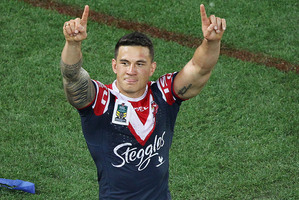 The first thing Sonny Bill Williams will do when he gets into camp with the Kiwis tomorrow is address the squad and talk about what has happened this week and what it means to play in the World Cup.
It was made very clear to him he had to do this before he was accepted into the squad. Hopefully it will clear the air and everyone can move on, but from what I can work out, the players welcome the decision and will welcome him into the team.
It has been an incredible couple of days but, as a New Zealand selector, I am comfortable with the decision we made and the process we went through.
Yes, we could have done things differently and better but it was a highly unusual situation and not one any of us had faced before. Everyone is an expert after the event and, whatever we did, we would have copped criticism.
I first became aware of Williams' backtrack when the Herald rang me on Tuesday night.
A range of emotions immediately filled me, from excitement to disbelief and thoughts that perhaps it was a joke.
Phone calls then started flooding in and didn't stop until about 1am.
As selectors, we were asked our opinion on whether we thought Sonny Bill should be included in the squad.
For me, there was no question. We always had a belief that if he performed well and met expectations for the Roosters he would be selected.
It's fair to say he met those, given how critical he was to the Roosters' success.
Team manager Tony Iro then had to find out if a change could be made, and got in touch with the international board and World Cup organisers.
Once that was cleared, it was up to coach Stephen Kearney to decide who would drop out for Sonny Bill.
Some might say all of the selectors should have been consulted on this, but ultimately, Stephen knows the way he wants to play at the World Cup and the balance of his squad.
I have total confidence in his decision-making and, when it comes down to it, I would have opted for Tohu Harris as well. It can't have been easy for Stephen to make that call to Tohu.
Before the decision was made public, we had one last meeting to make sure we had covered everything and followed what we thought was the correct process.
As selectors, we have a duty to pick the best side available.
Sometimes you battle with the moral situation and that's a battle we will continue to have as individuals, but I can, and will, live with the decision.
It's now time to move on and put all of our energies into retaining the World Cup.
I feel confident that, in Sonny Bill, we have someone who can put polish on the overall team but I'm also wary.
I think people sense we have got a really good chance of winning the World Cup with him, which is true to an extent, but it doesn't matter who we have. What matters is what they do when they get to Britain, how they prepare and how desperate they are.
We will come up against some really good sides and, assuming we get there, we will have to play either England or Australia in a semifinal.
From what I can tell, something swayed Sonny Bill. Perhaps it was boxing and the fact something he thought was going to happen fell through, freeing him to play in the World Cup.
It seems clear, however, he made his decision to skip the World Cup after the NRL grand final, as he said he would do. That was a mistake, but in life you learn very quickly from your mistakes.
Sonny Bill needs to get better at planning because he leaves everything late. He's unique, because he's involved in so many sports and vying for so many accolades, but I think he needs to give more thought to what is coming up because of the effect it has on so many people.
Perhaps if he was put in the same situation again, he would be more aware of other people involved and what impact his decision might make.
Sonny Bill hasn't disrespected the jersey by what he did. He's disrespected the person who is going to be left behind.
Hopefully he will try to put that right in the next seven weeks.