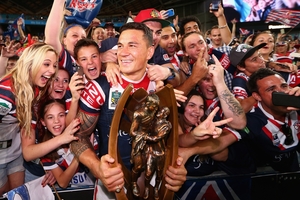 The Hawkes Bay-based parents of dumped Kiwis league player Tohu Harris yesterday cancelled their flights to the World Cup which begins in Britain later this month.
"Both of us were going to go and we're disappointed Tohu missed out," Harris' father Paul said yesterday.
His son, a Melbourne Storm secondrower, was withdrawn from the 24-man Kiwis squad yesterday to make way for World Cup-winning All Black and one of the heroes of the Sydney Roosters' NRL grand final win last weekend, Sonny Bill Williams.
"We [Paul and Tohu's mother Dale] haven't had a chance to speak to Tohu yet because we have been working but we gather from what we've read in Storm press releases he is pretty disappointed too," Mr Harris said.
"Hopefully Tohu will make another World Cup tournament in the future. We're going to go to the Storm club's prizegiving as a consolation feel-good trip."
Williams last night tweeted: "I'm really sorry about the Tohu situation it was never my intention I just followed my heart, now I promise I'll play with all of it."
A 21-year-old Hastings Boys' High School product, Harris said he was bitterly disappointed to miss out on being part of the eight-week tournament.
"As you would expect, I'm very disappointed not to be heading to the World Cup to represent my country, New Zealand," Harris said.
"I was very much looking forward to going.
"However, I understand the decision that has been made and hope I get another opportunity to play for the Kiwis in the future."
Harris enjoyed a meteoric rise in his first NRL season, missing just one match for the year after debuting with a try in Storm's World Club Challenge victory against Leeds in February and making his international debut in April's test match against the Kangaroos.
Williams signalled on Tuesday to Kiwis coach Stephen Kearney that he had reconsidered his position of not being available for the tournament. Williams' late registration has been accepted by World Cup organisers.
"It's been a tough situation, but Sonny brings things to the group that we couldn't ignore," Kearney said. "He has had time since his NRL grand final win to clear his head and he wants to represent the Kiwis on the world stage. He missed our 2008 World Cup win and his inclusion will be a great asset in trying to repeat that success this year. It's not only his footballing ability, but also what he brings off the field which will benefit the team."
The Kiwis were keen to take Harris to the UK in a development role, which would see him play pre-tournament against the Cook Islands, but the Storm have decided it is in Harris' best interests to stay in Melbourne. The Kiwis open their campaign, against Samoa, on October 28.