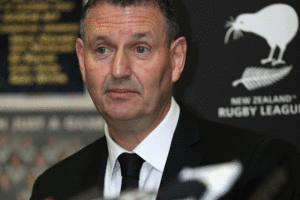 New Zealand Rugby League chief executive Phil Holden has defended the decision to add Sonny Bull Williams to the Kiwis' World Cup squad, saying his "undeniable talent'' couldn't be overlooked.
Williams yesterday sensationally back-tracked on his initial intention to skip the tournament, phoning coach Steve Kearney only hours after the squad was named to inform of his change of heart.
The NRL Premiership winner was subsequently added to the squad as the Kiwis try to defend the trophy the won in 2008, with Melbourne's Tohu Harris the unlucky man to miss out.
Holden described the last 24 hours as a "very difficult time'' and said it was essential for the the NZRL to act with integrity when it came to the squad change.
"It's been quite challenging because, at the end of the day, whichever decision New Zealand Rugby League made, we were going to have some people saying, 'that's a great decision' and others that are going to go, 'that's not a good decision,'.
"We're pretty focused on winning the World Cup and we think [Williams] is an undeniable talent - not only what he brings on the field but also off the field, I think it important, in terms of the culture and the team environment.
"We went through quite a robust discussion and had a lot of discussions over the course of the evening. We had to check first that we could actually take him and, once we knew that we could and we knew the timing was there that allowed us to do that, we then had to front up to the difficult decisions around the conversations with Tohu.''
Harris was offered something of a consolation prize _ the chance to travel with the squad to the UK in a development role and play pre-tournament against the Cook Islands _ but Harris and his club, after consultation with Kearney opted against accepting.
Holden hoped Harris would not become alienated from the national set-up in wake of his exclusion and said the coaches and selectors were ready to cop the brunt of any criticism.
"That's been the key for me and I made that very clear with the coaches - if we wanted Sonny in the team then we had to be prepared to front up.
"I think we're going to put our arms around Tohu, and I know the team are going to make sure there's lots of messages of support. Once the emotion's gone out of it for him, I'll give him a call myself, but we'll do everything in our powers, around the key words of integrity and respect, to make sure it's managed appropriately.''
- APNZ