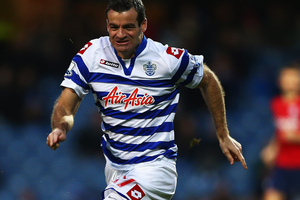 QPR manager Harry Redknapp has revealed that Ryan Nelsen was his best player last season, but the former All Whites skipper was unable to curb the stinking attitudes and culture of decay that lay inside the Rangers' dressing room.
In his explosive new book, Always Managing: My Autobiography, Redknapp takes aim at members of last year's relegated QPR squad, labelling the dressing room as 'the most toxic in football.'
Redknapp said that Nelsen, who is now struggling with his own coaching difficulties at Toronto FC, stood in stark contrast to many of the multimillionaire's of the side whose attitude was 'disgraceful.'
"Within weeks I had worked out that my best player was Ryan Nelsen, a 35-year-old New Zealand international - and he couldn't wait to get out," Redknapp said.
"You've got no chance,' he told me. 'Not a prayer. This is the worst dressing room I've ever been in in my life. You haven't got a hope with this lot. I don't know how you solve it.
"The attitude stank. Attitude towards the game, attitude towards training. I can't remember a worse one - and behaviour like that cannot be altered overnight."
Redknapp said that even glorified gaffer Jose Mourinho would not have kept QPR up last season.
"The squad I inherited in November last year was poorly balanced, undisciplined and short of confidence. The directors and owners were nice people but they were naive in football terms and I think certain people they had trusted - agents and advisers - had let them down quite badly."
Nelsen has just completed his rookie year of coaching in the MLS, where his Toronto side won just five of their 32 games and finished 9th in the 10 team Eastern Conference.
-nzherald.co.nz