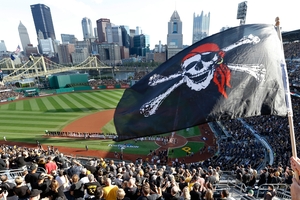 Pedro Alvarez hit a tiebreaking single in the eighth inning as the Pittsburgh Pirates beat the St Louis Cardinals 5-3 to take a 2-1 lead in baseball's best-of-five National League division series.
The Dodgers took a 2-1 lead in their NDLS against Atlanta with a 13-6 rout in Los Angeles yesterday.
Carl Crawford hit a three-run homer and Juan Uribe added a two-run shot, while Hanley Ramirez and Yasiel Puig each had three hits and scored three times as the Dodgers matched a club record for runs in a post-season game. Brooklyn beat the New York Yankees 13-8 in Game 2 of the 1956 World Series.
Los Angeles can advance to the NL championship series with a win at home in Game 4. Ricky Nolasco pitches for the Dodgers against veteran Freddy Garcia.
Charlie Morton is set to start in Game 4 for the Pirates, who took a series lead after Alvarez pulled a grounder into right field that scored pinch-runner Josh Harrison from second base.
Russell Martin followed with a sharp RBI single against reliever Kevin Siegrist, who took over after Carlos Martinez (0-1) faltered.
The go-ahead single was the latest big hit by Alvarez. He homered in the first two games against St Louis and is 4 for 10 with four RBIs in the series.
Alvarez also kept the Pirates' famous flag flying high in October. "Raise the Jolly Roger!" is the rallying cry for this wild-card team, now one victory from their first post-season series win since Willie Stargell, Dave Parker and co won it all in 1979.
"We're continuing to surprise a lot of people, I believe. We're continuing to show people that we're not done, that we're not just happy to be in the post-season," star centre fielder Andrew McCutchen said. "We're fighting to win a World Series."
Heady territory for a club that had endured a record 20 consecutive years of losing coming into this season.
Mark Melancon (1-0) picked up the win despite allowing Carlos Beltran's tying home run in the top of the eighth. Jason Grilli worked the ninth for a save.
Beltran finished 2 for 3 with three RBIs.
His 16th playoff home run moved him past Babe Ruth for eighth place in post-season history.
"It's a must-win [today] for us," Beltran said. "Hopefully we can come here, take care of business, win and go play the last game at home."
- AP