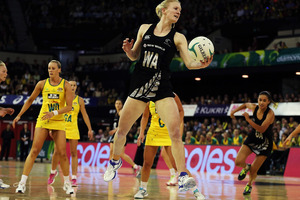 It's difficult to see any grounds for optimism at all, but both coach Wai Taumaunu and captain Casey Kopua believe the Silver Ferns can salvage this Constellation Cup series.
After a flat display in Auckland two weeks ago, last night was meant to be a rebound but instead the New Zealand side came up with their worse display of the series.
There was a general lack of accuracy across the court, a huge amount of unforced - and often basic errors - and a hesitancy in possession that gave Australia the initiative. The Diamonds were faster, more physical and more clinical.
However, Taumaunu sees some light through the gloom after the 58-50 defeat, with the final margin probably flattering the Ferns.
"We certainly can [win the series] and that is what we are aiming to do," said Taumaunu. "But we know how difficult it will be. We know how difficult it is in Australia for us."
"A loss like this makes you want it more and we have nothing to lose," said Kopua. "The next game is do or die and we have to leave everything out there, do everything possible in Melbourne to make it happen."
After a tight first quarter (15-13) last night the Australians skipped away in the second 15 minute period to lead 30-24 at halftime. Once they had extended that advantage to more than ten goals midway through the third quarter the match was essentially over.
"We struggled to get the ball through the attack line and struggled with the physical pressure that Australia put on us," said Taumaunu. "It didn't help that we made errors that were not around the pass, that were around stepping, breaking [early].."
Several times during the match Taumaunu had her head in her hands, partly exasperated by the strange calls by the officials but mostly frustrated by her team's ability to find continually make errors at the worst possible times. The Ferns coach was reluctant to comment on the umpires but did seem genuinely bemused by some of the calls and admitted she had never seen a match with so many penalties for petty offences related to the centre pass.
"I think we were frustrated but you need to move on, nothing can be changed," said Kopua of the umpiring display. "It's about trying to adapt to that and still play our own game at the same time."
Caitlin Bassett (40/43) and Natalie Medhurst (18/19) were outstanding for Australia and their burgeoning partnership looks ominous, especially considering it is a relatively new combination.
Irene van Dyk (18/19) struggled to gain space and time away from the attention of Laura Geitz while Maria Tutaia (23/30) shot well from long range but was untidy in her work outside the circle. Cathrine Latu (9/10) entered the fray in the fourth quarter, and may see more game time over the next two weeks.
The Ferns travel to Melbourne on Saturday afternoon. They will train on Saturday evening then have a practice match on Sunday before the fourth test in the Victorian capital on Monday evening (10pm NZT).