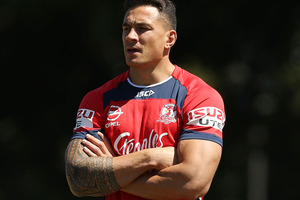 By saying nothing, Sydney Roosters star Sonny Bill Williams gave the clearest indication his time in the NRL may be coming to an end.
Maintaining his silence ahead of Sunday's grand final against Manly, Williams even skipped the team's fan day celebrations which followed Thursday's grand final lunch.
Roosters management insisted it was because of a pre-arranged physio's appointment, with the dual international having already compromised his schedule to attend the official lunch.
There is speculation he has a calf complaint he has carried for some weeks, but coach Trent Robinson said he was a certainty to play on Sunday.
As he has done all year, Williams is calling the shots, having informed Roosters officials he was not keen to talk ahead of the decider.
Efforts by the Roosters, the NRL, even the Nine Network - who also employ Williams - to get him to speak, have fallen on deaf ears.
Perhaps he is just trying to focus on the game, but he may also be wanting to avoid the inevitable question - will he be sticking around in the NRL in 2014?
With each passing day of silence, his return to rugby union seems more likely.
Williams has insisted when he has spoken earlier in the year that he would weigh up all his options when the season is over.
Roosters coach Trent Robinson says he has not and will not pressure Williams to make a call.
Williams will do it when he is ready, as he has done all season.
- AAP