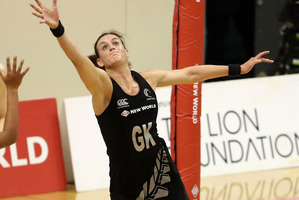 Despite another injury setback to a key player, Silver Ferns coach Wai Taumaunu remains confident her side can prevail in tomorrow's third Constellation Cup test and regain the initative in the series.
Veteran defender Leana de Bruin suffered a knock to her calf in training on Wednesday and sat out today's session. She has not yet been officially ruled out but is in some doubt to play and Te Huinga Reo Selby-Rickett is flying over as cover.
It continues a wretched run for the Ferns, with Kayla Cullen and Camilla Lees scratched before this series. The 1.90m de Bruin is the Ferns' tallest defender and seen as the player to deal with the towering threat of Caitlin Bassett (1.94m), who has been one of the stand out performer in the series so far.
"[De Bruin] is a loss because she is such a good player," says Taumaunu. "She is an old head, a and a canny player with tons of experience. But we are very fortunate to still have two very good defenders and we are flying another one in.
Depth is certainly not a problem for us in that area and it won't affect our performance."
If De Bruin doesn't pass a final fitness test tomorrow, Pulse captain Katrina Grant will start for the first time in this series. Grant (43 caps) has plenty of experience and forms a brilliant combination with Casey Kopua, though she does give away 8cm in height and reach to Bassett.
"She has got much stronger over the last few years and has better netball nous," says Grant of Bassett. "It means the feeders are able to find her a lot better. She's a tough opponent but you just need to make sure that you are physical, be on the body and slide with her - if you get stuck behind her you are gone."
The Ferns trained at a private school in the east of Adelaide today, with particular focus on their through court transition, which was a major negative out of the second test loss. The defence did the and the team won plenty of turnovers, but too many times possession was then forfeited straight back, either through haste or hesitancy.
"Our through court transition - which has always been a strength for us - just wasn't in that game," admits Taumaunu. "We worked really hard on defence to get [turnover] ball but when we did we were actually well out of position and struggled to regroup onto attack."
Today the team worked through different random scenarios, as Taumaunu called a series of plays and the team had to react instantly. In the incredible velocity of these trans Tasman matches it is as much about speed of thought as foot and players need to find calm among the chaos.
"[Tomorrow night] we need to adjust when people are caught out of position," says Taumaunu. "Essentially we need to be able to start from chaos. We are generally very good at starting from structure but when possession comes after some hard working defence it can be a chaotic start to the attack movement and we have to adapt to that."
With the series tied at 1-1, tomorrow's match is pivotal, before games in Melbourne on Monday and Canberra on the 13th October.
"We have certainly recognised that we let an opportunity go begging in Auckland," says Taumaunu. "It was a huge chance and we didn't do it. There is a real determination that that won't happen again."
The game starts at 11pm (NZT).
- APNZ