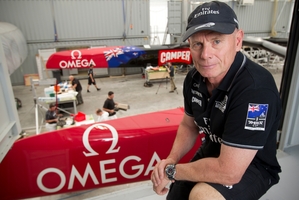 Thousands of loyal Emirates Team New Zealand fans are expected to turn out for the crew's official welcome home event tomorrow.
Auckland Council has cleared Queens Wharf for the special event, which will kick off at about 12pm at Shed 10.
Grant Dalton and Dean Barker are expected to speak, with a performance from Dave Dobbyn also in the programme.
While the event is free, Team New Zealand loyalists will likely need to arrive in downtown Auckland relatively early for a good spot, the council said.
People could begin queuing for entry to Shed 10 at 11am, with the doors set to open at 11.30am.
A council spokesman said the venue could hold about 3000 people at capacity. Those who don't make it inside will be directed towards The Cloud and other viewing areas at Queens Wharf.
After the official welcome at midday, Team NZ will be taken by boat in a "sail-by" past Queens Wharf, Princes Wharf, Halsey Wharf and into the Viaduct
While no road closures have been set down for the day, the council has contingency plans in place.
About 80 family members of the Team New Zealand crew were also expected to attend, with Auckland Mayor Len Brown and Economic Development Minister Steven Joyce.
A spokesman for Mr Joyce would not confirm whether he would announce a funding decision for any future challenge.
The decision would require approval from all of Cabinet.
Dalton, who arrived back in New Zealand yesterday morning, said securing funding for another campaign would have to be done quickly before sailors were poached.
The syndicate's design team, in particular, were an "absolute target".
New Zealanders have already begun fundraising for the 35th America's Cup. The Givealittle organisation had last night collected $43,875 towards the next team.