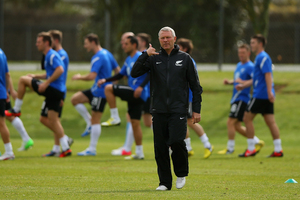 The All Whites will play three games in seven days, including an international against Trinidad and Tobago to prepare for November's World Cup playoff.
The FIFA international window stretches from October 11-15, but Ricki Herbert will set up camp three days early in Los Angeles, in order to squeeze in three valuable fixtures.
New Zealand will play Mexican Liga MX club Querétaro on October 9 and meet Major League Soccer's Chivas USA three days later.
Then they will fly into the Port of Spain for an international against the 85th Soca Warriors on October 15th.
"The camp in Los Angeles could well replicate how the All Whites approach the challenge in November," said NZF High Performance Director Fred de Jong.
"There's still a lot of water to go under the bridge in terms of knowing who our opposition are and what unique logistical challenges they will present but basing the team in the US then flying in for that first leg is very much an option."
"It's similar to what the All Whites did in Dubai before the 2009 playoff against Bahrain so it's a scenario the group has some familiarity with.
"The difference is the two club games, which will give Ricki the freedom to try a few things in a training match situation then make decisions on the make-up of his side to face Trinidad and Tobago."
The All Whites' playoff picture will become clear after the final round of North American qualifying in the October window, with Mexico's clash against Panama on October 11 potentially the decisive fixture of the final two match days in that region.
De Jong indicated that Herbert may well be among the 105,000 spectators at Mexico City's Azteca stadium to gain first hand intelligence on New Zealand's opposition.
"The winner of that game are the front runners at this stage to fill that fourth spot in CONCACAF so it's likely that Ricki or one of his staff will fly down to Mexico City that day as it is a fantastic opportunity to scout a potential opponent."
- APNZ