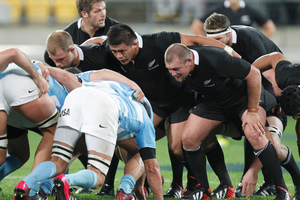 Scrums are supposed to be a restart phase in rugby, an advantage to one team for the other's mistake.
Instead we are seeing the game splutter to a crouch, bind, set sequence with multiple baffling developments.
Remember one team gets to put the ball in as an advantage for the other's error. That is the theory.
In reality that benefit has reduced with each spoke-shaving of the laws.
Watching scrums in international matches or the ITM Cup is a downtime for all except the lawmakers, aspiring or former frontrowers and the combatants.
The referee delivers his earnestly-weighted instructions before he looks at a cave-in or stand-up and listens quizzically to any observations from his assistants. A little lecture then a reset, or so it seems.
Scrummaging, as one very interested ageing forward reminded me, changed after the 1971 visit from the Lions. Before that scrums were all about striking for tight heads but the tourists showed the values of a concerted technique.
Now scrums weigh well over 900kg, all eight forwards are pushing and hookers find it very awkward to strike for the ball if it is delivered into the middle of the scrum.
The team which has not infringed, with their halfback delivering the ball to the scrum, does not get any advantage because they have seven men pushing against eight, if they strike for the ball.
How does that equate to some advantage?
At least in the lineouts, you can pick where you want to throw the ball, how many men you have in the lineout and where the hooker wants to deliver the ball. That is their advantage.
Forget it in the scrums. They are supposed to be a way of regrouping players so there is much more space for the backlines to try and weave their magic.
Instead the backlines are left fretting about whether they will even get the ball or fidgeting about their timing for some set play they want to try.
Scrums are set because of some minor rules infraction, a knock-on where there is no advantage, an accidental infringement or unplayable situation.
Scrums should be a contest, not the major interminable baffling inquisition they have become. The side who did not offend should get some assistance.
Instead scrums have morphed from a minor infringement into a way of earning full penalties which can decide the outcome of some matches.
Remember Francois Trinh-Duc and a kick which could have earned France a late lead in the 2011 World Cup final.
That example and others should be a message to the game's rule shapers to get the scrums sorted well before 2015.