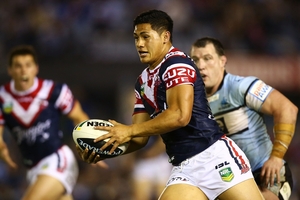 Two days before their NRL preliminary final, the Sydney Roosters claim they have nothing to hide after reports the club sacked a sports nutrition company when six players returned blood tests with elevated readings for human growth hormone (HGH).
There are reports that details of the players' blood test results were found on the phone of an organised crime figure after being seized by the law. The firm, Nubodi, was hired by the club last year in an attempt to finetune detox diets.
Boyd Cordner, Sam Moa and Roger Tuivasa-Sheck were three players named in the report who had elevated HGH levels. The trio were later retested by the club, with those blood tests not returning elevated levels of HGH, and there is no suggestion any player acted improperly.
"As is the case with all clubs, players have been regularly and extensively tested throughout the season by Australian Sports Anti-Doping Authority (Asada) and the club has fully co-operated with the organisation's routine tests," a club statement said.
"In relation to matters raised in the media today, there has been full voluntary disclosure with the NRL's Integrity Unit over many months and the club has not been contacted by Asada. We reinforce that the club maintains the absolute highest standards in its own policies and governance and, as a club, we have nothing to hide."
The Roosters, who are favourites to win the premiership in a fortnight, informed the Integrity Unit of the unusual test results midway through this season. Sean Carolan, who runs Nubodi, denied the inconsistent growth hormones among some tested players were a result of taking illegal supplements.
The Roosters face Newcastle tomorrow night in a preliminary final, with the winner to progress to the grand final on October 6.
- AAP