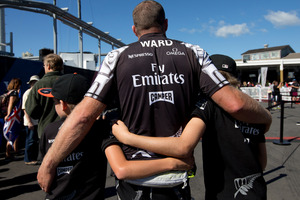 The Auckland Council will talk to Emirates Team New Zealand crew about how they want to be recognised for their achievements upon their return.
A spokeswoman for Auckland Tourism Events and Economic Development, Rachael Carroll said New Zealanders could be incredibly proud of what EMTNZ had achieved in San Francisco.
"We will be talking with the team on how that might be recognised at some point in the future."
She did not comment on whether a parade might be part of the events for the team's return.
After Black Magic's successful run in May, 1995, up to 400,000 people attended one of the country's largest parades ever to welcome their team home.
Queen St and surrounding roads were carpeted with ticker-tape, colourful streamers and confetti. There were cheerleaders, pipe bands, floats and lots of champagne.
Traffic was at a standstill and people stood on bus stop shelters, traffic lights and shop roofs to try and get a glimpse of their men.
Then skipper Sir Russell Coutts said: "This is unbelievable. I expected a lot of people, but not to be hardly able to get down Queen St...it's great."