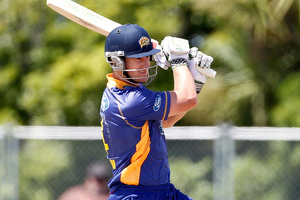 Neil Broom was quick to deflect praise to a couple of his team mates after spearheading a dazzling Otago batting performance at the Champions League.
Broom's maiden T20 century in Jaipur, a booming 117 not out from only 56 balls carried Otago to a 14th successive T20 win, and the highest total, 242 for four, in the competition's history.
Talk about timing. Having had their opening game rained off - and with it the loss of a possible two points - against the Mumbai Indians, Otago needed the win to put themselves in a solid position to advance past the group stage.
Losing national skipper Brendon McCullum, among the game's most damaging short form batsmen, first ball didn't help.
However Broom, unwanted by New Zealand for three years, got crucial support from wicketkeeper Derek de Boorder (45 off 28 balls) and T20 mercenary Ryan ten Doeschate (66 off 26 balls), leaving the bowlers a straightforward job to complete a 62-run win.
Broom belted 30 off his last nine balls, including three of his eight sixes off successive balls in the penultimate over. Dutch international ten Doeschate helped him blaze 128 off eight overs for the fourth wicket.
"The way Derek played was pretty special and 'Tendo' stepped up a notch, which he usually does," Broom said.
Broom has been in the sub-continent with New Zealand A for several weeks, and admitted the preparation had done him plenty of good.
"I haven't scored too many runs but it's nice to prepare yourself in these conditions."
Otago's is the second best successive winning run in T20 and coach Vaughn Johnson conceded their days of "flying under the radar" are probably gone.
They play South Africa's Lions in Jaipur on Sunday night, folowed by the Rajasthan Royals early on Wednesday (NZT).
"We're probably going to be targeted now. The next two games we have to up the intensity because they're quality sides," Johnson said."
The Royals lead the group on eight points, Otago have six - and a thumping run rate - with Mumbai, Lions and Perth on two.
Highest totals in Champions League
242-4 Otago v Perth Scorchers, Jaipur, Sept 2013
215-8 Royal Challengers Bangalore v South Australia, Bangalore, Oct 2011
214-2 South Australia v Bangalore, Bangalore, Oct 2011
213-4 Trinidad and Tobago v Eagles, Hyderabad, Oct 2009
Highest individual scores
135 not out (69 balls) David Warner, New South Wales v Chennai Super Kings, Chennai, Oct 2011
123 not out (68) Warner, NSW v Bangalore, Bangalore, Oct 2011
117 not out (56) Neil Broom, Otago v Perth Scorchers, Jaipur, Sept 2013
108 not out (61) Daniel Harris, South Australia v Bangalore, Oct 2011
103 not out (61) Andrew Puttick, Cape Cobras v Otago, Hyderabad, Oct 2009.
-
Most successive T20 wins
25: Sialkot Stallions (Feb 2006-Oct 2010
14: Otago (Dec 2012-Sept 2013)
13 Surrey (June 2003-Aug 2004)