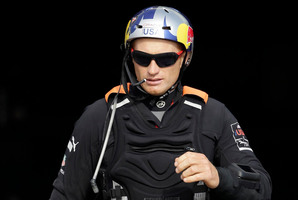 Oracle Team USA's stunning America's Cup comeback has raised concerns that even if Team New Zealand can dig deep and close the match out from here, the two teams could be headed for court.
The Cup defenders yesterday levelled the score on the water at eight apiece, although Oracle still trail 8-6 in the series after being docked two points before the regatta for making illegal modifications to their AC45 catamarans during the America's Cup World Series.
There has been scuttlebutt floating around the America's Cup village for some time that Oracle were looking at their legal options should Team NZ wrest the Auld Mug away.
But now Oracle have closed the gap in the series and could theoretically win nine races and still lose the Cup, those rumours are growing foils. When asked if his team were considering their legal avenues should Team NZ go on to take out the regatta, Oracle skipper Jimmy Spithill said his team were committed to defending the Cup on the water.
"We're sailors, we're athletes. We're not about the politics - life is not fair sometimes, but the beauty of sport is you can win if you go out and win the race. And that's what we're about," said Spithill.
His comments were not much of a denial, they simply reflected a growing confidence they can do the job on the water. Throughout the regatta Spithill has been at pains to remind us of the difficulties his team faced heading into the event, only learning four days out from the start that they would be without wing trimmer Dirk de Ridder.
Asked about legal action, Oracle chief executive Sir Russell Coutts was quoted by the New York Times yesterday saying: "Well, we'll wait and see, won't we? I stick to what I said right at the beginning. I think the decision was outrageous."
Should Oracle lose and decide to go down the legal route it would be a hugely unpopular move with the public. The 34th America's Cup protocol contains a clause that as soon as a competitor tries to seek redress through the courts on any issue, they will automatically be disqualified. The clause was put in place by Oracle as they wanted to reassure the public that after the Cup was stalled for three years because of a bitter legal dispute with Alinghi, the days of the event being hijacked by lawyers was a thing of the past.
However, the rules do not prevent court action after the regatta, which, given it is typically between Cup cycles that long drawn-out legal battles have occurred, it really makes the no-court clause quite pointless.