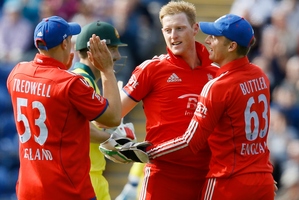 England defended their approach to cricket after Australia coach Darren Lehmann said yesterday that they were a "dour side".
Although England completed a third-straight Ashes win at home to Australia last month by taking a five-match series 3-0, they were criticised for an excessively defensive approach with bat and ball.
Lehmann, speaking shortly before England announced their Ashes squad, described England's style as "dour"
"It's not the type of cricket I'd play," Lehmann said.
"At times I'd like to see their over rates picked up."
The former Australia batsman had previously stoked the fire ahead of the return series by accusing England's Stuart Broad of "blatant cheating" after the pace bowler's decision not to walk after edging a catch in the first test at Trent Bridge.
Lehmann also called on the Australian public to make life so difficult for Broad during the Ashes rematch he will want to cry and go home.
His comments led to a fine by the International Cricket Council, while former Australia captain Ian Chappell said Lehmann had been a hypocrite, as Australians, who have traditionally always waited for the umpire's decision, were in no position to complain about opponents who didn't walk.
England managing director of cricket Hugh Morris said he'd no problems with the brand of cricket played by Alastair Cook's side.
"I'm really happy with our style," Morris said.
"Our style and approach is looking to win important matches, which we've done consistently."
Spinner Monty Panesar is in the 17-man traveling party despite last month being fined by police for drunk and disorderly conduct urinating in public following his ejection from a nightclub.
England national selector Geoff Miller said: "He is very sure those errors are behind him now and he is very prepared to let his bowling do the talking for him so I am prepared to accept that."
Allrounder Ben Stokes, born in Christchurch the son of former Kiwi forward Gerard Stokes, has been called up despite being sent home from the England development team's tour of Australia in February in disgrace over drinking incidents, after ignoring previous warnings.
Gary Ballance, a Zimbabwe-born batsman, and Irish seamer Boyd Rankin are also included.
- AFP