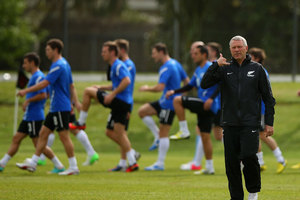 All Whites coach Ricki Herbert has gone for a mixture of the old and new for his New Zealand A side which will take on the Wellington Phoenix in Rotorua on Sunday.
All Whites Glen Moss, Andrew Durante, Jeremy Brockie and Leo Bertos have been named to face their current club and will be joined by established internationals Ivan Vicelich and Tony Lochhead.
Aaron Clapham and Jake Butler are in the mix, Jason Hicks has a chance to make his New Zealand A debut and Cole Peverley will have another chance at international level after his last appearance in 2008 and just missing out on the 2010 World Cup squad.
On top of that, Young All Whites Adam Mitchell, Matthew Ridenton and Stuart Holthusen have been handed an opportunity for some valuable experience before they head off for the upcoming Under-17 World Cup in the United Arabs Emirates.
Herbert is still searching for the right formula ahead of November's high-stakes playoff against the fourth-best nation from North and Central America for a place at next year's World Cup. They are hoping to have two more internationals in October but this match against the Phoenix will also be important.
He is still pondering his options in central midfield and whether to play with a back four and Mark Paston's retirement means there's an opening as Glen Moss' backup in goalkeeper - Auckland City goalkeeper Tamati Williams has been selected for this match.
"This game will be more about looking at individual players,'' Herbert said. "It gives some players an opportunity to stamp their mark.
"It's an opportunity for those players based in New Zealand, and for those players who are on the verge of the squad, such as Aaron Clapham, Jake Butler and Cole Peverley.
"The young players are off to the World Cup soon and I think it will be a great experience for them to be part of the squad and to see what we're trying to do.''
The game will also see Herbert take on the club he coached for six seasons - he still acts as a consultant - and against old adversary Ernie Merrick. The pair are two of the most experienced A-League coaches.
"I'm really looking forward to it,'' Herbert said. ``It's a great opportunity for Ernie moving into the season and looking into what he needs. They're at full swing and they've been playing a lot of games so it will be a good game.
"It's great for football to have New Zealand's only professional side face New Zealand A and it's fantastic for the Rotorua public. It will be exciting for them and I'm really glad that the game is in Rotorua.''
New Zealand A side to play the Wellington Phoenix at the Rotorua International Stadium, Rotorua, on Sunday (2.30pm): Glen Moss, Aaron Scott, Tony Lochhead, Andrew Durante, Adam Mitchell, Cole Peverley, Jason Hicks, Jeremy Brockie, Matthew Ridenton, Leo Bertos, Tamati Williams, Ian Hogg, Ivan Vicelich, Aaron Clapham, Jake Butler, Stuart Holthusen.