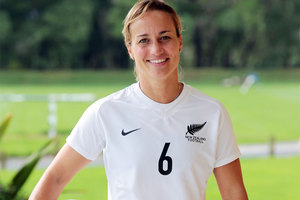 Former New Zealand women's football captain Rebecca Smith has announced her retirement as a player but she won't be lost to the game having taken up a role with Fifa as their manager of women's competitions.
The 32-year-old central defender played 74 internationals following her debut in 2003, including at two World Cups and two Olympic Games. She also forged out a successful professional career, having played in Germany, Sweden and Australia and won a nomination for World Player of the Year in 2007.
But Smith has been battling a troubling knee injury for more than 12 months _ she has missed all seven internationals this year - and an offer to work for Fifa helped make the decision to retire easier.
"I think the job offer was the point where I had to make some tough decisions because during my recovery from my knee injury, I was spending most, if not all, of my time and energy on rehab and training and, at that point, I knew that it was either the job or a full recovery back to football,'' she said.
Smith's career co-incided with considerable progress from the Football Ferns and they are now the 19th-ranked side in women's football. In the past 12 months they have beaten Italy, Scotland and Switzerland and drew with Japan, ranked No 3, and should have won their first series over Australia.
She will be presented with her official New Zealand Football blazer at New Zealand's game against Brazil at the Valais Cup in Switzerland on September 23.
"It is impossible to express how much Rebecca has contributed to the Football Ferns over the past 10 years,'' coach Tony Readings said.
"Leading the team at two World Cups and an Olympic Games including scoring goals in both 2011 and 2012 is an incredible achievement. She was also a player that paved the way for New Zealand players to obtain professional contracts overseas and make football a genuine career path.
"She has played a huge part both on and off the pitch in the team's rapid improvement during this time.''
- APNZ