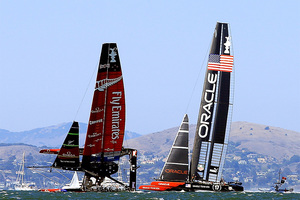 Team NZ needs two more wins to secure the America's Cup but its edge over Oracle Team USA is looking shakier than ever.
After yesterday's race 10, which has been dubbed "a race for the ages", it seems certain the Kiwis will have to work hard to close the series out.
Yachting reporter Dana Johannsen joins us from San Francisco at 12pm to explain the ins and outs of America's Cup racing and give her thoughts on what will decide the closing races of the finals contest.
How have Oracle suddenly got stronger? Has Jimmy Spithill got an edge on Dean Barker? Ask Dana your questions by clicking 'Comment Now' below.