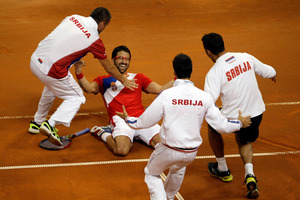 The Czech Republic will bet on a successful team of Radek Stepanek and Tomas Berdych when they face Novak Djokovic-led Serbia in the Davis Cup finals on November 15-17.
Defending champions, the Czechs won their eighth Davis Cup tie in a row when they swept Argentina in the semifinals in Prague, while 2010 champions Serbia, led by world No1 Djokovic, saw off Canada 3-2, the same margin by which the Czechs beat Argentina, although the last two rubbers were dead contests.
The Czech Republic and Serbia last clashed in the 2012 quarter-finals, which the Czechs won 4-1 on their way to the victory.
Two years earlier, Serbia had beaten the Czechs in the semifinals in Belgrade 3-2 to lift the trophy.
Against Djokovic and Janko Tipsarevic, the Czechs will pit a duo that has a stunning record since teaming up in 2007.
Berdych, the world No5, and Stepanek, ranked 61st in singles and fifth in doubles, led the Czechs to their third final in five years at the weekend, having won the 13th of their 14 Davis Cup doubles rubbers together.
"Radek and Tomas are a great team, they have been doing great for five years and I hope we will take it to a successful end this year too," Czech captain Jaroslav Navratil said.
"The away game will definitely be more difficult, we saw this in Belgrade three years ago. But we're not afraid, experience is on our side."
Djokovic remains a concern given his record against the Czechs - 14-2 with Berdych, 8-1 with Stepanek.
In their home ties so far, the Czechs have relied on a superfast court at Prague's O2 Arena filled with thousands of frantic fans.
Now they know the final surface will be different. "Neither Tipsarevic nor their doubles players can play on clay. They will choose a hard surface but a slower one," Navratil said.
Djokovic won both his singles at the weekend to down Canada and believes home advantage in Belgrade will be crucial in the final.
"I've won a number of grand slams but nothing compares to sharing the joy of victory with your teammates, who are there for you and cheer on every shot you take on the court in the Davis Cup."
Serbia trailed 2-1 heading into yesterday's reverse singles against Canada with Djokovic keeping hopes alive in Belgrade by seeing off world No11 Milos Raonic 7-6 (7-1) 6-2 6-2.
Tipsarevic, the world No24, then assured Serbia of a second final in four years by defeating Vasek Pospisil 7-6 (7-3) 6-2 7-6 (8-6).
- AFP